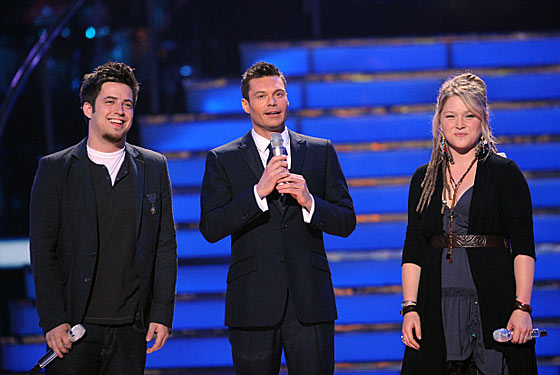 On last night's episode of American Idol, Simon Cowell wore something other than a black or white muscle shirt, which is his way of saying (through the language of pinstripes) that the season-nine finale of American Idol is upon us. With three songs to prove they deserve to join the ranks of Kelly Clarkson, Fantasia Barrino, Carrie Underwood, and, errr, Taylor Hicks, Crystal Bowersox and Lee DeWyze — both 24-year-olds recruited from the Chicago auditions — delivered one of the most entertaining episodes of this otherwise sleepy season.
Both contestants went to greater lengths than before to make their presence and desire to win felt. For Bowersox, that meant delivering three show-stopping performances straight from the heart, and for Lee, that meant hiding his limited vocal range under a cavalcade of backup vocalists, a string section, and lighting show.

Crystal won the coin toss and decided that Lee would be going first, so he reprised his inspirational-songs-week version of "The Boxer" for the much larger audience at the Nokia.
Content wise, it was a smart choice (it brings to mind his whole "paint salesman turned Idol star" story line), but Lee didn't seem as connected to the lyrics this time around. Maybe it was the enormous audience working on his nerves or maybe lightning doesn't strike the same goateed man twice, but whatever the issue was, his version of the Simon & Garfunkel classic felt more "nice" than emotionally upfront, which was what he really needed if he was going to do a slow song on the final night of competition.

Matters were not helped by the soft lighting scheme, which made it look like Lee wanted you to pledge $50 instead of give him your vote. Although Ellen told Lee, "I couldn't have been prouder had I birthed you myself," Simon likened it to a "kiss on the cheek when I wanted a kiss on the lips," which was the British meanie's way of saying new similes don't come easy after nine seasons of this shit.

For her song choice, Crystal reprised "Me and Bobby McGee." The musical arrangement was the same, but she seemed different this time around — her smile was wider, her eye shadow was bluer, and her scatting toward the end of the song was almost rapturous. Yes, in some ways it was just a Joplin disciple doing a fine job of channeling her teacher, but it was hard not to get carried along with the joyous energy she brought to the stage.

The judges all agreed with Simon when he said that Crystal "brought [us] back to the time we absolutely fell in love with you." On the other hand, when he said, "You know what? We've got a competition tonight," it was with all the enthusiasm of a stewardess going through the emergency-evacuation procedures.

Round two of the showdown involved Idol creator and executive producer Simon Fuller choosing songs for the top two. For some reason, Mr. Fuller decided Lee needed to get whinier to win this thing and made him sing R.E.M.'s "Everybody Hurts." Yeah, it's a hit, but it's certainly not the kind of tune that elicits any "wow/holy shit" vocal moments out of any performer — including Michael Stipe.

Unsurprisingly, Lee didn't sound too involved with the song, but it was the arrangement that really mucked up his chances of victory; the string section was soaked in sterile sentimentality and the chorus of gospel singers who joined him were even less necessary than when he brought them out for "Hallelujah" last week.

Of course Lee's voice is closer to Clear Channel's version of rock than Chuck Berry's, but he certainly can't begin his career in the style of Elvis during the Vegas years. He needs to embrace his inner Nickelback or Counting Crow instead of polishing his sound to the point that his voice is buried by the softie instrumentation.

Randy hit him with the dreaded "pitchy" label; Ellen felt like he held back too much; and Simon worried he didn't understand the importance of the evening with regard to the course of his life. It's easy to see how Lee might have been confused, since this is about the fourth time Simon assured him "tonight is the most important night of your life." Generally speaking, most once-in-a-lifetime performances occur only about once in a lifetime.

Adding salt to the wound on his ego, Crystal came out and absolutely destroyed her Simon Fuller pick. Crystal was given the No. 1 single "Black Velvet" by Alannah Myles and provided a version more arresting and sultry than the original.

The guitar licks backing her were about as hot and sexy as things get on Idol, and equally compelling was her take-no-prisoners black dress. But most important, her vocals were as tough, smoky, and delicious as a strip of homemade beef jerky, and you didn't even have to deal with that weird clicking sound in your jaw afterward.

When she closed the song with a masterful, soulful screech, you started to realize the big difference between Crystal and Lee. He can deliver great vocal performances, but you can tell he has preplanned which syllables to enunciate over and over. Crystal, on the other hand, sounds like she's attacking each song for the first time she hits the stage — and when she gets thrown off for a second, it doesn't take her long to get back on and keep riding. Even if she does obsessively rehearse, it always sounds fresh and born out of the moment.

Kara applauded Crystal for delivering on this holiest of all nights, and Simon told her he was surprised she "nailed it" since he's "heard it murdered so many times" by others. (Watch below).

The last round involved the potential coronation songs for each contestant. Lee sang U2's "Beautiful Day," and while this was certainly a wise choice for him, for some reason he brought out the lame string section and the silly gospel choir again.

Though his sparkling, yearning baby blues told us he was comfortable and connected to the audience, the background instrumentation seemed to indicate otherwise. The whole mix drowned out his voice and made it clear that although he does have a powerful set of pipes, he hasn't quite figured out how to make himself the centerpiece of a song, which is a necessity on a singing-competition show.

Randy informed Lee, "I love to see you walk around while you sing," which is the kind of career advice you can only get from a longtime expert in the biz like Randy Jackson. Ellen talked for some time without punctuating her sentences or saying anything of substance, but Kara concisely told Lee he "got swallowed up a bit." Simon waxed sentimental and told us how "this is the final time I'm ever going to judge this show, and this is what this competition was designed for," i.e., plucking talented people from obscurity and giving them a shot. He also said Lee was a "really, really nice person" for the third week in a row, making one wonder if Crystal eggs his mansion on off days.

For her coronation song, Crystal performed singer-songwriter Patty Griffin's "Up to the Mountain," which is a vaguely religious Americana song based on a Martin Luther King Jr. speech. (In case you're wondering why it sounded familiar, Kelly Clarkson performed it once during an "Idol Gives Back" special with Jeff Beck on guitar).

Bowersox went the simple acoustic-guitar route, using the gospel chorus sparingly in a way that never distracted from her impassioned, almost wounded vocals. While it was certainly not the most exciting performance of the night — and perhaps not her best bet for a lead single, which it will be if she wins — it nevertheless felt like the most authentic vocal of the evening.

Even if it didn't rile up people to vote for her, in a way it was the perfect illustration of why she is the better artist and singer. With moments like this, one gets the sense that Crystal doesn't "want" to win like Lee does, because expressing herself through song is just what she does — and there's no need to want something you're already living. It's clearly as much as part of her as the dreadlocks and the impossibly lame sense of humor (the whole "I'm beside myself — no actually I'm beside Ryan Seacrest" will probably leave her smacking her forehead when she re-watches the show tomorrow).

After she was done, Randy almost seemed to be correcting the Great Simon when he yelled, "No, THIS is what this show is about," and Kara said for the first time in forever it actually seemed like Crystal was getting better at singing. For his final critique on American Idol for all eternity, Simon simply told her "that was outstanding" and then he and Ryan exchanged some kind words and winks.

For those reticent to tune into a two-hour results show tomorrow, Seacrest promised some big surprises for Simon's send-off; expect guest appearances by former Idols and an honorary Ford Fiesta with Simon's initials monogrammed onto it.

As for predictions on tonight's results, it seems likely Crystal's superior and more exciting performances will ensure the dreadlocked single mama the title of "American Idol." Although Lee has been the beneficiary of more judicial pimping than her this past month, the episode's format — going back and forth between their performances — did Lee no favors.

While each song he sang seemed to postulate the idea that this stocky paint salesman was ready to be the next American Idol, his controlled demeanor and occasionally off-tune vocals told another story. In stark contrast, Crystal remained effortlessly in tune and her performances boasted an inviting exuberance. You enjoyed them first, then you judged them in the context of the show.

Of course Lee has the whole "zero to hero" story arc working in his favor, and he is certainly a blank enough slate that people can project whatever sort of personality on to him they choose. But then again, Crystal has three important things working in her favor: she has a kid, she struggles with diabetes and she loves the Lord. Even if she hasn't "grown" like Lee (but really, we should thank her for not starting out with irritating acoustic covers of songs like "Fireflies") she still has those three endearing qualities. While it's nice to think of Lee going from paint salesman to rock star, it still tugs the heartstrings harder to think about a moral, kind-hearted single mother finally getting the break that can make life easier for her son and her disease.

Then again, maybe all that stuff is just window dressing and perhaps people really do vote on which musician is better. If that's the case, Bowersox has it in the bag. And given the energy of her performances last night, she just might join the ranks of Idol winners we actually care about once the show is over.
Other Recaps:
The AV Club's Claire Zulkey felt "'Black Velvet' was a great choice both for Crystal's voice and her attitude: She went all-out with the belting and basically made me forget Lee existed."
EW's Michael Slezak decided "Lee got the more commercially viable song with 'Beautiful Day' but turned it into a bit of a hot, honeyed wreck; Crystal's 'Up to the Mountain,' by comparison, is probably a little too folksy for modern radio, but damned if she didn't sing the bejeezus out of it."