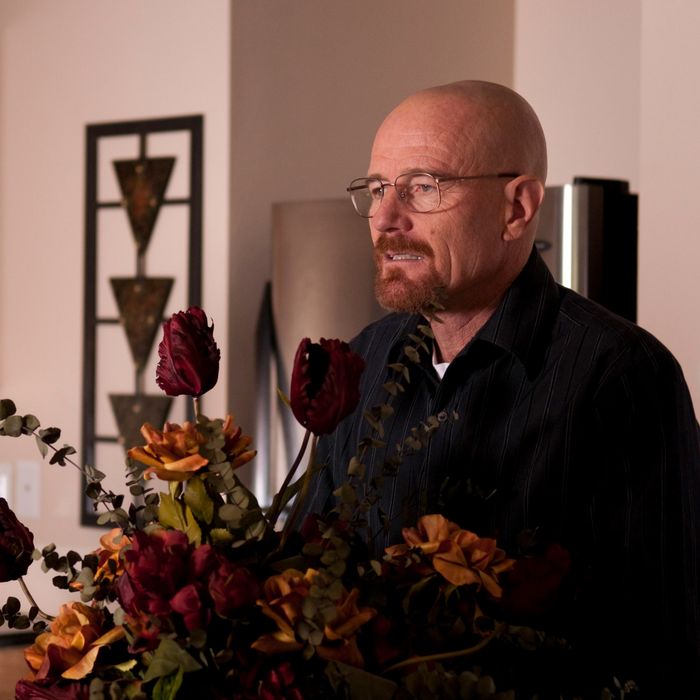 We love Breaking Bad's episode-opening set pieces not just because they're virtuosic little exercises in filmmaking, but because we're generally free to treat them exactly as that, and not worry about how well they fit into the real story happening that week. Which is the problem with the Twins, those silent-but-deadly cousins first determined to kill Walt, then turned by Gus toward poor Hank: They're not characters so much as comic relief. Or are they symbols of evil — agents of suspense? Either way, they fit better into those bubbles that heave and pop before the opening credits roll. This week, the episode leads with a look at their bucolic childhood under the watchful eyes of Tio, who proves that he doesn't need a wheelchair and a front-desk bell to seem scary and cryptic. Much as we tingled seeing Tio hold one of their heads under the ice water in his beer cooler (to prove, naturally, that FAMILY IS ALL), we wondered why these cardboard cutouts in shiny suits needed a (not very) psychologically nuanced backstory. And then we found out.
So yes, the Twins met their match (and, more or less, their end) in none other than Hank Schrader, whose own totally believable and well-established psychological condition didn't prevent him from taking action — after a warning, granted, and with the Twins firing into his SUV seemingly without bothering to stop and aim — once the threat finally arrived at his door. So, finally the Twins come into play. And then they're vanquished! (We can only hope that the survivor ends up in a wheelchair, forever summoning a bellhop who will never come.) Meanwhile, Hank's PTSD finally climaxes, too, with consequences and everything. Understandably in a rage over being lured from the RV by fake news of his wife Marie's hospitalization (nice, Walt), Hank calls on Jesse at home, beating him brutally without so much as a "fuck you." The only question is, when Hank volunteers the truth — surely Mustache wouldn't have minded a few white lies — is it out of pure honor or that old fear of working big cases? Judging from his conversation with Marie, it seems like it might actually be an acknowledgment that he no longer belongs on the job. (Then again, actor Dean Norris suggests that Hank will have residual beef with the DEA, and might even turn vigilante.)
Related: Breaking Bad's Dean Norris Weighs In on Hank's Explosive Episode
Anyway, this all just takes us back to Walt and Skyler: She's the one who wants Hank saved from Jesse pressing charges, and Walt, while testy over Skyler snarking about his model-apartment furniture, is only too happy to oblige by pulling Jesse back into the fold. Boring! We were more grateful than ever for Saul's voluble (with patches of murderous scheming) presence — "Paul, meet Ringo"? Good times. We also enjoyed the cameo by the speed-addled gun dealer, although his prattling on about water sports wasn't as funny or surprising as it probably sounded in the writers' room. In any case, we really got a kick out of the hollow-tip bullet playing the part of Chekhov's Gun, with the dealer tossing it to the Twin, only to have him drop it, Hank load it, and for it to go off in the back of said Twin's skull. Kablooey! The end of another beautiful friendship.
So yes, the Twins met their match (and, more or less, their end) in none other than Hank Schrader, whose own totally believable and well-established psychological condition didn't prevent him from taking action — after a warning, granted, and with the Twins firing into his SUV seemingly without bothering to stop and aim — once the threat finally arrived at his door. So, finally the Twins come into play. And then they're vanquished! (We can only hope that the survivor ends up in a wheelchair, forever summoning a bellhop who will never come.) Meanwhile, Hank's PTSD finally climaxes, too, with consequences and everything. Understandably in a rage over being lured from the RV by fake news of his wife Marie's hospitalization (nice, Walt), Hank calls on Jesse at home, beating him brutally without so much as a "fuck you." The only question is, when Hank volunteers the truth — surely Mustache wouldn't have minded a few white lies — is it out of pure honor or that old fear of working big cases? Judging from his conversation with Marie, it seems like it might actually be an acknowledgment that he no longer belongs on the job. (Then again, actor Dean Norris suggests that Hank will have residual beef with the DEA, and might even turn vigilante.)