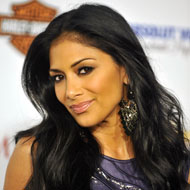 The return of Kate "World's Worst Dancer (Seriously, the Wooooorst)" Gosselin dominated last night's Dancing With the Stars finale, but a winner was crowned amid that fury of awkwardness. That'd be Nicole Scherzinger, front woman for stripper-pop act the Pussycat Dolls, now attempting to utilize the good vibes from her DWTS victory to facilitate the resuscitation of her solo career. Scherzinger's debut, Her Name Is Nicole, has been kicking around since 2006 and was assumed to be all but buried by now. This week, though, a new Scherzinger single, "Nobody Can Change Me," was debuted on Ryan Seacrest's radio show. Thankfully, there's none of the Pussycat Doll's forced sexiness here; instead, it sounds like something that could have just missed the final cut on a Kelly Clarkson album (that is sort of supposed to be a compliment, yeah). There's no official date for the album or anything, so this is basically Interscope floating a "anyone care about a Nicole Scherzinger solo album?" trial balloon. So, anyone care?
Anyone Want a Nicole Scherzinger Solo Album?
Things you buy through our links may earn New York a commission.