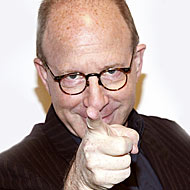 Yes, the rumors are true, and I'm leaving New York Magazine. The editors made me an offer I couldn't refuse: They gave me $106 million in severance because they couldn't get me the 1932 Picasso, and they threw in the $28 million Jasper Johns "Flag," and an apartment in the East 80s overlooking the Metropolitan Museum of Art. Plus cashews for life. (I love cashews.)
But seriously. In response to the funny widespread "news" that I'm quitting New York and scrapping my Facebook page: Neither is true, and that "farewell" post was not written by me. If I leave the magazine, I'm going out feetfirst (because I'm dead) or headfirst (because they're throwing me out). They had me at, "We have cashew Fridays," and now I'm addicted to getting e-mails from editors proposing "just one more revise" of my column, or blog entries that they want in 45 minutes, and constantly going to galleries out of sheer deadline pressure. And anyway, those limited individuals who structure their inner lives around hating my work, both on New York's online-comment threads and in the blogosphere at-large, all seem to need me more than I need them. I may be keeping them off the streets, which might be viewed as a public service.
As for scrapping my Facebook page, alas: My wife says this pastime keeps me out of her hair and has, relatively speaking, a "calming effect" on me. It's staying around, too.