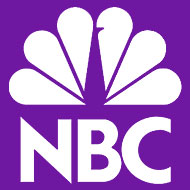 If NBC's upfront had a message, it was "you can trust us again." After the late-night kerfuffle and the shenanigans of the Silverman era, NBC wanted to convince advertisers gathered at the Hilton that its fall schedule is impressive, exciting, and backed by big-name talent like J.J. Abrams, Jerry Bruckheimer, and Jimmy Smits: Basically, NBC is back at the grown-ups table. This may seem like a straightforward talking point, but it's hard to deliver with excess enthusiasm — it's like trying to get your parents psyched about a trip to the Bahamas while you're still grounded. They'll hear you out, but they're not going to buy you a ticket just because you say it's going to be really, really fun and Kathy Bates will be there. So, like good parents, the audience was politely interested, but not about to be taken in by a good show. Trust takes time. They listened when NBC said Knight Rider would be good company, and we all know how that turned out.
Alec Baldwin got what would be a long afternoon of dirty talk started, welcoming everyone to the upfront in character as Jack Donaghy. Baldwin made a few inside jokes ("Many of you may know me from my brief and ultimately illegal marriage to Nikki Finke"), a few apologies about the soirée being at the Hilton instead of Radio City Music Hall ("We have some surprises for you. You're in a Hilton right now. Not because we couldn't afford Radio City anymore, no, Radio city is … getting painted), and some jabs at Fox, before settling into his main metaphor: NBC is just like a "hot European hooker" and "would like to be your potentially dangerous, hot European hooker." On the way out of the ballroom, when the upfront was finished, a few media buyers were overheard talking about how much sex there had been in the clips of the new shows — 8:00 p.m. shows no less! Wow, that hooker is good!
Baldwin then turned things over to the "Godfather of my two racehorses," NBC's entertainment chairman, Jeff Gaspin, who quickly made another lame joke about the Hilton — jeez, NBC, the lady doth protest too much — but then made a good joke about how "a job like [his] only opens up every eight months or so." He then introduced entertainment president Angela Bromstad, who clearly had not chipped in with Gaspin for a joke writer. In all black she delivered a deadly serious spiel about NBC's three-pronged strategy: (1) convince people it's serious about scripted shows, (2) bring back Community and Parenthood, (3) work with famous people. Then Gaspin made another joke about how we're all still at the Hilton, and there's a Bar Mitzvah in ballroom C. Then came time for the videotape.
The audience responded best to the middle-of-the-road shows. Bruckheimer's Chase — a mix of Bruckheimer action movie and Bruckheimer procedural — is about a team of U.S. Marshals who hunt down fugitives, and it went over well. It's the kind of series you could imagine on CBS: straightforward, polished, professional, procedural. Plus, the leading lady, Kelli Giddish, seemed genuinely badass (and was the first of three people in NBC's clips to leap off something she shouldn't — in her case, a bridge) and has a fun tagline to boot: "When Annie Comes Gunning, Start Running."
The other show that got a good response was Love Bites, an anthology series that will follow loosely related story lines in each episode. It's hard to tell how the series will work as a whole, but the long clip NBC showed — of a married Greg Grunberg trying to sleep with Jennifer Love Hewitt on an airplane — garnered the most laughs of the presentation, despite being fairly standard romantic-comedy material.
Going over less well was the Law & Order: L.A. preview. Despite lacking a lead or any footage yet, the teaser started strong with Tupac and Dre's "California Love" playing over the Hollywood Sign remade to read "Law & Order." But then it cut to footage of O.J.'s White Bronco weaving through the streets, images of the L.A. Riots, Rodney King being beaten, and famous people's mug shots. Tagline: "Should be a riot." Really? The women sitting next to me couldn't even be bothered to clap. The other most uncomfortable shot of the presentation: an airplane swooping down to nose dive into a compound housing the president on The Event. Terrorism, it does not put people at ease.
As for all the sex that those media buyers were on about, there was plenty of it. Undercovers, J.J. Abrams's light drama about a husband and wife who go back to working for the CIA, featured lots of lingerie, some serious making out, and the tagline: "Nothing spices up a marriage like sexpionage." Sexpionage: It's the new Chrismukkah. Mid-season show Friends With Benefits started with two twentysomethings going at it under the sheets, and on Perfect Couples various pairs kept trying to find time to do it. (Perfect Couples had a few really sharp lines, including "you Seacrested me!") The clip for Parenthood, not a new show but given a whole reel anyway, opened with talk about teenage masturbation. Even Jimmy Smits in Outlaw turned out to be a horndog, playing a Supreme Court justice who can't remember the name of the last three women he's slept with. In other news, the footage revealed that Smits quit his job as a justice so he can … free RZA from jail! Wu-Tang represent!
That left lawyer drama Harry's Law, in which Kathy Bates totally said "asshole," and clips from new comedy Outsourced and The Cape (which is going to try to convince you magic — like, abracadabra, rabbits in a top hat magic — can be cool and intimidating.) The understated audience reaction to Outsourced should not give NBC much confidence they made the right decision in bumping Parks and Recreation for it; perhaps it will get better when they run out of the most obvious jokes that can be made about Indian people.
In between all of this, to keep spirits high, came Bob Costas and Jimmy Fallon. (By the way: missing from the upfront? Even one joke about the late-night mess. Some things just aren't funny.) Costas, onstage with the men of Sunday Night Football, inadvertently sent up Gaspin — some suits seem comfortable talking to large groups! — and started a fracas by throwing autographed footballs into the crowd. Fallon and his guitar made up some on-the-spot ditties for advertisers:
Bing Bing everybody sing
Bing Bing lots of things rhyme with Bing
Not that many things rhyme with Google
Except for frugal, or maybe kugel
For all my Jewish people out there
Or the name McDougal.
Applebee's!
They now list calories
on their menus.
What part of I don't give a fuck don't you understand
Applebee's?
After more than an hour and a half, in which the audience behaved but never seemed moved, Gaspin promised there were only "thirteen more to go!" and then set everyone loose to go eat the free food that NBC had provided while rubbing shoulders with the free celebrities they also provided, in the form of the cast of Parenthood. But not before making another Bar Mitzvah joke, at the Hilton's expense. It's okay, NBC. It can't be Radio City magic every year.