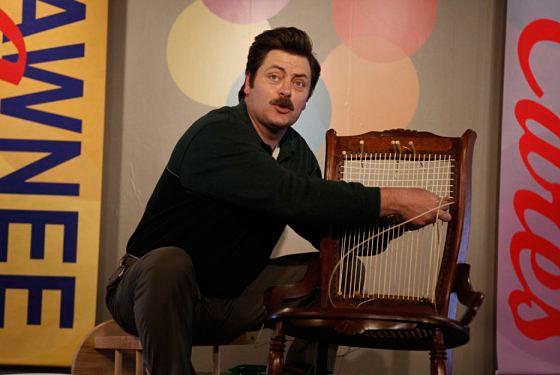 May sweeps fever: Are you catching it? This is the magical time of the TV season when shows other than Lost offer big revelations and inspired stunt-casting surprises and episodes written by their stars. Parks and Recreation is no exception; for example, tonight we finally learned, to our dismay, that Mouse Rat kinda sounds like the Dave Matthews Band — if the Dave Matthews Band had a song called "Sex Hair," which they most certainly do not.
Already sleep-deprived from staying up all night embroidering "Let's Dia-Beat-This" T-shirts for the Pawnee Cares diabetes telethon, Leslie is in no shape to handle her assigned 2 a.m. to 6 a.m. shift at the public-access station, so she recruits the office to man the phones with her, totally ruining Jerry's planned sex night. Fortunately, she's also got a big bag o' Nutri-Yum bars so she can be fueled by a sugar rush every fifteen minutes. Ron Swanson takes no chances, napping in the green room and revealing that he suffers from the heretofore underreported affliction known as sleep fighting.
Tom's assignment is to pick up and deliver former Indiana Pacers forward Detlef Schremp for the telethon, but a pit stop at the Snakehole renders Tom, resplendent in Brooks Brothers for Boys vest and slacks, shitfaced after two light beers. Even after watching Tom go off to Soulja Boy, Schremp summons the kind of patience and tolerance for his pint-size valet's high jinks that Rik Smits could never have mustered. Meanwhile, Leslie is freaking out over her big star's no-show.
Really, the episode seems engineered to showcase Amy Poehler (who did indeed write this) in varying stages of exhaustion-related delirium. Plotwise, though, it gets out in the open what everyone except Mark has pretty much known since "Galentine's Day": Ann just isn't that into him. Desperate to fill air time after Ron's chair-caning seminar and the rec center accounting teacher's Quickbooks tutorial, Leslie talks Mark into proposing to Ann on the air; this, of course, before Ann confides in her that she's ready to break up with him. Would the potential humiliation be what drives Mark from Pawnee? Nope! Just as Mark is about to pop the question and the sun is starting to come up, Leslie does what any concerned friend would do to create a diversion: She takes her pants off on camera. Pretty sure this is how Regis got his start.
Moreover, the episode allows Ron Swanson, who is basically Bob Geldof's worst nightmare, to explain his anti-charity stance so succinctly it may as well serve as the parks department director's epitaph: "Give a man a fish, you'll feed him for a day. Don't teach a man to fish and feed yourself. He's a grown man, fishing's not that hard."
Other Recaps:
The AV Club's Steve Heisler thinks the episode is a curtain call of sorts for moments from the great second season.
Myles McNutt at Cultural Learnings compares the episode to The Office's "Casino Night," also written by the series' star.