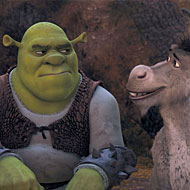 When Shrek Forever After, the fourth installment of DreamWorks Animation's once reliable source of jolly green, opened to a $70.8 million weekend, it stunned box-office watchers. While that may seem like a lot of money, it's actually $35 million less than had been projected; the shock was big enough that the studio's stock price lost almost a tenth of its value by Tuesday afternoon. Most pundits quickly blamed the waning appeal of the franchise, and Wall Street analysts deemed it especially disappointing because it underperformed despite the huge premiums that movie theaters are charging for 3-D tickets. But that may be the wrong lesson to take: Most likely, the fourth Shrek fell short precisely because of those huge 3-D surcharges.
Exhibitors, not studios, set ticket prices, and with Avatar grossing nearly $750 million domestically, they look at the new wave of 3-D as the biggest potential moneymaker since someone put snow on a cap. One studio source estimates that the cost of a 3-D ticket has gone up a whopping 22 percent in the past year; in New York City, you could pay $20 to see Shrek 4. (And as of April, there were 4,011 3-D theaters in the U.S., nearly twice the number from a year before.) People happily paid a surcharge to see Avatar because it was something they'd never seen before — but they've definitely seen the Shrek gang before. Three times, actually, and the last time was no fun at all; it was critically lambasted and likely dampened enthusiasm for another go-round.
Now that 3-D has become more commonplace, moviegoers could be becoming more discriminating when it comes to these prices; they may no longer be so eager to pay up for a movie that's not an event. "Less-than-perfect 3-D coupled with exorbitant up-charges has me fearing consumer pushback," says Chris Aronson, senior vice-president for domestic distribution at Twentieth Century Fox.
In the teeth of a recession, movie attendance jumped 4.5 percent in 2009 and the industry saw a record haul of over $10 billion, because people decided that going to the movies was actually their cheapest entertainment option. But with the jacking-up of 3-D prices, that may no longer be the case. And studios fear that a backlash may be starting, just in time for the release of all the pricey 3-D blockbusters that they green-lit after Avatar.
"We cannot control what [theaters] charge," said another exasperated top distribution executive at a major studio. "And we have to be very careful what we say about this: It's illegal for us to even think about speaking to them about what they charge. But this is insanity."
Shrek's box office numbers suggest that consumers are already backing away from reflexively running to a pricey, "premium" viewing experience: According to distribution insiders, the sequel made only 62 percent of its grosses from 3-D. By comparison, Disney's Alice in Wonderland made 72 percent of its gross from 3-D presentations, and even DreamWorks Animation's own How to Train Your Dragon made 67 percent of its gross from 3-D showings. (Clash of the Titans only reached 52 percent; bad reviews were part of it, but a bigger factor was that it opened a week after Dragon and there were fewer 3-D theaters available to open in.) And look at the even more expensive IMAX 3-D option: Only 6.7 percent of Shrek's grosses came from those screenings, as compared to Alice and Dragon, which both landed between 8 to 9 percent.
Patrick Corcoran, director of media and research for the National Association of Theater Owners, says that the number of 3-D films in release is too small to determine whether people are rebelling at the cost or the quality, but he does imply that in this case, it may have been the movie's fault. "Look at the film and people's interest in it," he says. "Both Shrek 2 and Shrek 3 were not shown in 3-D, and yet they still did better."
Interestingly, while NATO tracks ticket prices, its membership has voted not to track 3-D prices separately: The group only calculates an average price based on all theaters, regardless of how many dimensions are offered. (It's a lot more palatable to release the stat that on average, ticket prices are only up 5.7 percent from last year, rather than admitting that 3-D prices went up 22 percent year to year.)
The biggest irony in all this comes from DreamWorks CEO Jeffrey Katzenberg possibly being the first victim of 3-D pricing; he's the format's main booster, and only last month was touting higher 3-D ticket prices as the tonic for badly sagging DVD sales. So much for happily ever after.