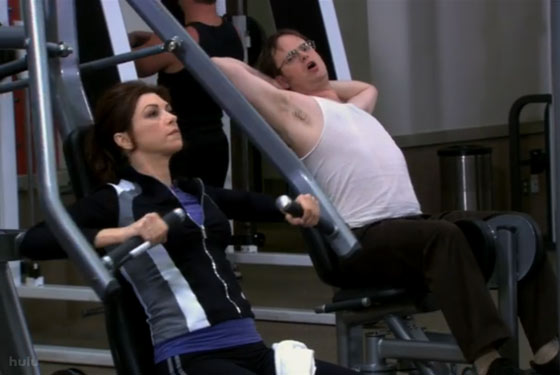 One of the major criticisms of this season of The Office is that nothing has ever seemed to be all that much at stake. Romance, specifically Jim and Pam's, propelled the first few seasons, while office intrigue, whether it was the splitting of Dunder-Mifflin or the "emergence" of The Michael Scott Paper Company, has kept the last couple of years vital. This year? This year has been about rather limp transitions in ownership; an initially compelling hint that we would watch Dunder-Mifflin die was saved by the deux ex machina of Kathy Bates's Sabre Corporation. This season's retrospectives and Pam and Jim marriage/baby episodes have just served as reminders of when the show had more urgency. It's hard to fully invest ourselves in yet another Michael relationship, or Andy-Erin: We've been through all this before.
With just two more episodes of this season left after this one, last night's Office attempted to raise the ante in the eleventh hour. Two major subplots were raised, seemingly out of nowhere, in an attempt to work up toward a cliffhanger. First, Pam discovers, over Facebook, pictures of Michael's new girlfriend, the bartender Donna, kissing another man. When Pam gives Michael the pictures and he confronts Donna, she admits: She's married. "I'm the mistress," Michael says with wonder. This made us extremely curious as to what in the world Donna's husband must be like to turn someone like Michael into a dangerous alternative: either he's George Will, or Dog the Bounty Hunter. Whichever: It's a last-minute plot twist in a relationship the audience was never given time to get into in the first place. Imagine the power of having this relationship drawn out for a few weeks and then telling us that Donna's married. Now? Heck, we didn't really know that lady anyway.
The other plotline is more promising. Andy is told that certain Sabre printers are bursting into flames after a certain number of copies. He tells Darrell, who figures it's a fluke and decides to turn it into a prank on Andy, convincing him the company will take him down, Tom Wilkinson in Michael Clayton style. But as it turns out, the printers do burst into flames, causing Darrell to promise "never to prank again." The Sabre corporation is turning out to be less a savior than another corrupt corporation; the name of the final episode of the season, "The Whistleblower," promises a return of CEO Kathy Bates and an amusing resolution to what has been, all in all, a meandering season.
Other Recaps:
Leonard Pierce at the AV Club says the episode showed the young bucks at Community and Parks and Recreation who's in charge.
Darren Franich at EW.com thinks the show did a good job of showing how bored people make their lives livable.
Rick Porter at Zap2It says the show is now all about secrets.