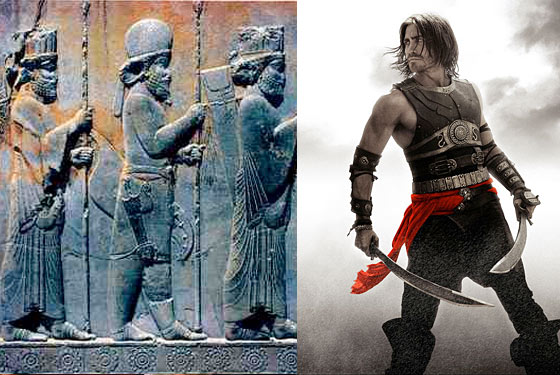 There are two questions that dominate the summer-blockbuster conversation: "What is Inception about?" and "What the hell is up with Jake Gyllenhaal's hair in those Prince of Persia ads?" Chin-length, stringy, ostensibly macho, and the object of national ridicule, his absurd do is a mix of Jordan Catalano, Billy Ray Cyrus, and Rachel from Friends. Though long hair is a hallmark of the chest-baring period hero — Kevin Sorbo's Hercules, Marc Singer's Beastmaster, the cartoon Aladdin — Gyllenhaal's style is so campy even he has to joke about it. "The Jake Gyllenhaal workout plan starts with growing long, long hair … gorgeous greasy locks and then washing every day … Wash, shampoo, then condition," the actor told ET Canada. But, as it turns out, Gyllenhaal has nothing to apologize for: It may be ridiculous, but at least it's historically accurate.
To help judge the hair, we called Ghazzal Dabiri, PhD, a lecturer and coordinator of Persian studies at Columbia University who clearly has been scarred by previous movie haircuts. "After 300, anything on ancient Iran would have to be a step up in terms of historical accuracy!" she said as we introduced ourselves. But when she saw Gyllenhaal's photo, she seemed relieved. She e-mailed us the above picture of a carving of soldiers from the First Persian Empire, the same-ish era of Prince of Persia. And what's under those square hats? Long, greasy hair peeking out the bottom! "It wouldn't have been unlikely at all [to have Gyllenhaal's haircut], as the medieval period spans several centuries and styles varied by time and region, and even from locality to locality," explains Dr. Dabiri.
And in case you were thinking that Gyllenhaal's buff physique was for the sake of pure eye candy: Wrong again, history hater! "An Iranian warrior-prince would have had those kinds of muscles!" says Dr. Dabiri. "They did train in martial arts from very young ages. Some accounts say as soon as they were old enough to be taught reading, writing, arithmetic, and so on, martial arts … was part of their curriculum." Case closed! Now we just need to find a veterinarian to verify whether dogs actually do dance in formation as in Marmaduke.