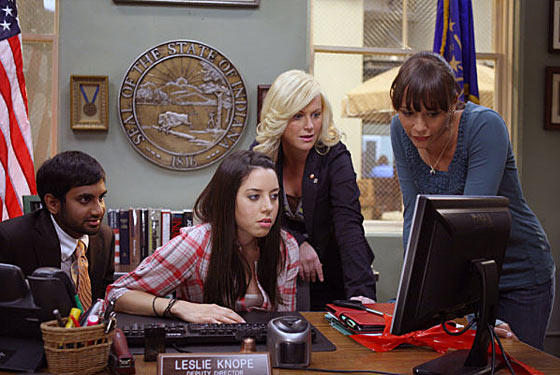 When NBC West Coast chairman Jeff Gaspin assured reporters on a conference call yesterday that keeping Parks and Recreation off the air until mid-season to make room for the call-center comedy Outsourced should not be misinterpreted as a slight against the show, it didn't stop angry Parks fans from taking it as a sign of no confidence. But wait: Maybe NBC's decision to keep the comedy off the fall schedule is just a Jedi mind trick that's ultimately aimed at helping the show. That's the best working theory we've got right now, less than 24 hours after NBC announced that Outsourced would air Thursdays at 9:30 p.m., bumping Tina Fey's 30 Rock to 8:30 — and Amy Poehler's Parks off the schedule until January (or later). The head-scratching maneuver was the most interesting development to come out of the network's scheduling announcement (other than the fact that, with more than a dozen new shows in the pipeline, it feels like NBC will be premiering a new show about once every three weeks next season). But while the Parks time-out has Pawnee boosters more perturbed than Ron Swanson at a budget meeting, it also has some Hollywood observers wondering if maybe this could all end up working out to Parks' benefit.
How's that? Well, if all goes according to (the admittedly convoluted, somewhat paranoid) plan Vulture heard at some upfront events Sunday, Parks will actually end up returning to NBC's schedule early next year in a much better time slot: 9:30 p.m. Thursdays. Yes, we know NBC just said it was putting the call-center comedy Outsourced there, but stay with us.
Even before Sunday's news, there was growing consensus in the industry that NBC needed to use The Office — its highest-rated comedy — to try to bolster a show other than 30 Rock. And yesterday, NBC entertainment boss Angela Bromstad confirmed that it was her thinking, too: "It was absolutely imperative that we launch a new comedy behind The Office," she told Vulture. Fey's series has occupied the comfy time slot for a couple seasons now, and since it's highly unlikely that it's suddenly going to start adding more viewers after four years on the air, NBC needed to make a change.
Parks seemed to be the perfect candidate for that post-Office slot: It's from the same team (Greg Daniels and Mike Schur) that made the latter show a hit, and it's got major momentum, with Rob Lowe having just started an eight-episode arc, Aziz Ansari blossoming into a big-time star (he's hosting next month's MTV Movie Awards), and fans increasingly vocal about their adoration.
But politically, directly replacing 30 Rock with another show that's already on the NBC schedule would have been very, very tough. Parks has done okay but not amazing numbers at 8:30, and advertisers might have balked at the notion that the show would suddenly make a dramatic improvement an hour later. Plus, it's hard to tell producers as big as Fey and Lorne Michaels that their show is being bumped for something that's had over a year to find an audience (even a great one that stars an SNL alumna).
That's where Outsourced comes in. Does NBC really believe that the show can become a hit at 9:30 Thursday? Well, sure … in the same way every parent thinks their kid can grow up to hit a ball like A-Rod. But the odds are, Outsourced — with its indie-movie roots and Indian setting — will end up frittering away a big chunk of its Office lead-in, sorely disappointing NBC and forcing the network to make a change a few months into the season.
And when that happens, guess who'll be tanned, rested, and ready to jump back into Thursday nights? Yup: Ron Effing Swanson and the rest of the Parks gang.
What's more, perhaps NBC is actually making a calculated attempt to get Parks fans motivated by giving them a taste of life without their favorite show. In the same way NBC's mistreatment turned Conan O'Brien into an Internet folk hero, and doubt about the future of Chuck has kept that show's fan base engaged, maybe the Peacock is praying that a little bit of adversity will actually boost the buzz for Parks. Sometimes you just gotta play bad cop, and they're getting good at it.
There's no guarantee this is how things will play out, of course. Outsourced could be a surprise hit. Or, even it fails, NBC could choose to stick one of the three other new comedies it has into the post-Office slot.
If that's what happens, then we're afraid we're going to have to agree with what die-hard Parks fan the Goche told his 40 followers on Twitter Sunday: "NBC is pushing Parks and Rec, one of the best comedies on TV to mid-season so they could try to prop up some new show. NBC sucks at TV."
Let's hope NBC can prove the Goche wrong. Nobody likes an angry Goche.