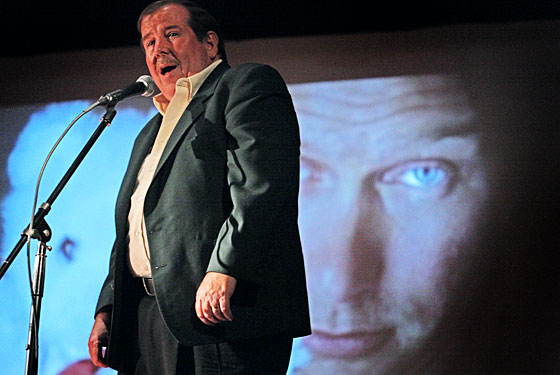 A few months ago, a bizarre but totally real campaign called Restore Stephen Baldwin surfaced online. Its goal was to get strangers to donate money to Stephen Baldwin, a man who, as the campaign would have you believe, went bankrupt because he found Christ. (The website, which the actor claims he did not launch himself, has since been abridged, but it's still a rabbit hole worth falling down.)

Comedians Jon Benjamin (Archer) and Patrick Borelli (author of Holy Headshot!), inspired and mystified by the Bio-Dome star's plight, held an event last night at the Bell House called "A Benefit for Stephen Baldwin," except the benefit was for another guy named Stephen Baldwin — a Stephen C. Baldwin who lives in Brooklyn, plays in a Beatles tribute band, and helps parrots. (More on that later.) Says Borelli, "We joked about different ways we could mess with the [Restore Stephen Baldwin] site … [and eventually] decided to put a benefit show together in his name. We thought about doing a straight benefit for him but realized the joke would have been on us and quickly dropped that idea. Then we thought of giving it to a Muslim charity. And then we thought of finding another Stephen Baldwin." A Facebook search revealed the Bay Ridge–based parrot helper.



So they invited several fellow comedians — including Flight of the Conchords' Kristen Schaal and Eugene Mirman, and Delocated's Jon Glaser — to come out and deliver loosely Stephen Baldwin–related material, with all proceeds going to the parrots. (Tickets were $15.) It was an odd night.
The show kicked off with the Restore Stephen Baldwin video that started it all:

… after which Borelli and Benjamin screened their favorite YouTube response to the Baldwin video: a drunken "public service announcement" about using caution when throwing bottles from cars.
Other highlights included Mirman reading the parable of Job recast with Stephen Baldwin, Glaser acting like the drunk guy who posted the YouTube reaction, Schaal performing an un-Baldwin-related interpretive dance to "Flashdance" and pouring a bucket of water on her head, and Kurt Braunohler describing Alec Ballswin, an imaginary impersonator of Stephen's more famous brother who dips his balls in pudding and dangles them through an Alec Baldwin mask.
Gabe Delahaye and Max Silvestri also screened a Baldwin-themed video (with voice-over from SNL's Jenny Slate):

And, as a surprise, Irish tenor Kevin Westerly sang "Stevie Boy" to the tune of "Danny Boy" while a slideshow of smirky Stephen Baldwin photos (a.k.a. most Stephen Baldwin photos) played behind him.
Closing the show was a presentation from the parrot helper himself, Stephen C. Baldwin, who explained exactly why there are parrots in Brooklyn (a shipment from South America was accidentally released in the sixties, supposedly) and why they need to be saved (energy companies kill them if they make nests in their power lines). There was an odd moment when Baldwin explained that one of the reasons people don't like the parrots is that their (cartoonishly large) nests sometimes cause power outages, and if, say, you were an elderly person on a respirator while one of those outages happened, you would die. But, moving on.

After the slideshow, Baldwin and his Beatles tribute band the Meetles ("NY's most FUN Beatles tribute band!") took the stage and played for two hours while the crowd was given free red-devil cake stenciled with pictures of Stephen Baldwin (the actor).

Cakes courtesy Community Baking Co.Photo: Patrick Borelli