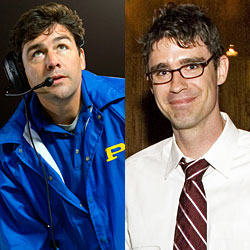 Joshua Ferris, the 36-year-old author of the novels Then We Came to the End and The Unnamed, recently landed himself a spot on The New Yorker's "20 under 40." His story in this week's issue of that magazine, "The Pilot," is not, against all odds, about failed or failing romances — it's about Lawrence, an extremely neurotic, recovering alcoholic actor-writer living in L.A., obsessing about whether or not to attend a party. After much hesitation, Lawrence screws up the courage to go by channeling "the Coach," a character on an unnamed television show — who, though never referred to by his full name, is clearly Coach Taylor from Friday Night Lights.
How do we know Ferris is referring to Coach Taylor? Consider Lawrence's descriptions of "the Coach":
"The Coach was on every Friday night, winning games, teaching his boys how to be men."
"The Coach was always victorious, even in defeat. But was it unsavory to channel the Coach? He stopped at a sporting-good store to purchase a blue windbreaker to go with the toothpick, and a cap whose bill he worked hard to break in on the drive to Kate's."
"The Coach, when he had to ask a favor — which was always in the name of something more important then the coach himself — put aside his pride and approached his task with a humble resolve you admired in a man.'
"[Lawrence had] grown up in Atlanta, which wasn't Texas, where the Coach coached, but it was the South, so the accent wasn't totally disingenuous."

Friday nights, check. Blue windbreaker, check. Worn-in hat, check. Humble way of asking for favors, check. Texas accent, check. Building boys into men, check.
If you are still not sold that Lawrence is taking his inspiration from Coach Taylor — who, let's be real, is very inspiring! — we should mention that we've spoken with Ferris about FNL and know he is a fan. He doesn't seem to be caught up with season four, and Coach's transition from blue to red sporting gear, though, which is fair enough: He's probably been busy writing.