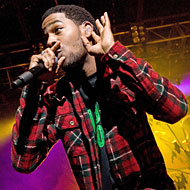 Not that we actually expected "REVOFEV" — the plaintive first single off Cudi's upcoming sophomore album, Man on the Moon II: The Legend of Mr. Rager (we cannot wait to type that a bunch of times) — to actively discuss his recent brush with the law. But it would have been nice! Especially as Cudi has released no statement about the June 11 incident, in which he was charged with criminal mischief after allegedly kicking an unidentified woman's apartment door off its hinges, as well as possession of a controlled substance for carrying liquid cocaine. There are presumably legal reasons as to why Cudi hasn't spoken out, so the big questions are: Who is the mystery woman? What was Cudi so upset about? And, most important, what is liquid cocaine? That's crazy sounding! Most of UrbanDictionary's descriptions involve some combination of Jäger and Goldschläger (there's also the requisite weird made-up sexual acts), and that can't possibly be enough to get you arrested. So could it be something perhaps so new or for-celebrity-eyes-only that even the Internet doesn't know about it? Seriously, if you have any thoughts, please do share. Oh, right, the song: It's downcast and meandering, so certainly a strange choice for a first single, but generally bodes well for Mr. Rager (yay!) and more of Cudi's patented druggy introspection.
Kid Cudi's New Single Sheds No Light on His Recent Arrest
Things you buy through our links may earn New York a commission.