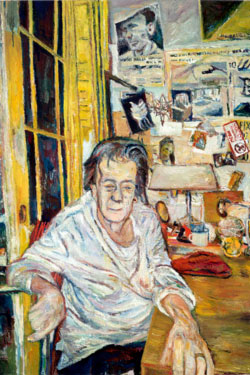 Although I never attended one of Louise Bourgeois's Sunday Salons held in her Chelsea townhouse, they were reportedly psychic-artistic battlegrounds. Open to anyone, artists could bring their work, wait their turn, and then get feedback from Bourgeois, who was said to preside over the proceedings like a queen. Some were made to cry; more shook in anticipation. But all seemed to leave with the sense of having passed through some sort of aesthetic fire. Here are few remembrances of Bourgeois salons past, from artists who attended.
Kathe Burkhart
I had the privilege to attend the salons two or three times. It was always a strange mix of people. Louise didn't want it to be about networking or art-world insiders, though there would be a few each time along with students, and sometimes a curator as guest of honor. Louise was very open and had something good to say about almost everything. Once there was a polyamorous woman; Louise was very interested in how that worked.
The last time, about four years ago, I took some drawings and a video (Persephone 02, 2003). The beginning of the video has me singing "My Bonnie Lies Over the Ocean," and to my astonishment, Louise began singing along with it! It was magical.
Liz Insogna
The moment I discovered the opportunity to be part of her Sunday art gathering, I found and called the number immediately to set up an appointment. She did not talk much this day — she pointed and stared. She guided the tempo and movement of the space without language. She sat in one spot and either hurried one along or slowed one's explanation down. A woman (who as I found out later was her personal chef) did most of the talking.
Hyewon Yi
There was an American female student writer who recited several poems for her. One of her poems was about "dance," but Louise didn't hear this young woman very well. She mistakenly thought the poem was going to be about "anger" and she became instantly very excited. She said, "I like to hear about ANGER." But as soon as the young woman corrected her, Louise B. became very disappointed. She lost her interest in this woman's poem.
Deborah Renee Kaplan
I was so traumatized by the time I spent with her that I turned around all the books I had in my apartment with her name on it, so I would not be reminded of her. This will sound dramatic or forced or made-up, but it's simply my impression: This woman did not walk into the room, she appeared … the afternoon was fully orchestrated by her. I became aware of the darker side of her work having met her.

Donna Ruff
There was a man there who was kind of acting as her spokesperson, as she was fairly frail. I brought an altered book piece which the spokesperson liked a lot. Louise frowned as he showed her how it was made. She did not approve of cutting up books. I told her the books were in a rubbish bin in a Paris bookshop, about to be thrown out. Her retort? "The French never throw anything out." However, she was quite interested in a woman's red high heels and had a photo taken of them. She was quite girly when it came to fashion.
Julie Tremblay
I had a great time with her. She seemed interested in my work, she even said she liked it! She also said: "Your sculptures look like you! They're skinny and witty!" I didn't say anything and so she felt the need to add: "It's a compliment!"
Gwyneth Leech
I took my then 5-year-old daughter to one of the salons, in 2000. Megan sneezed and was nearly thrown out, but allowed to stay as long as she sat by the window as far away from Louise as possible. Megan had brought a little folder of princess drawings. When Louise saw them she asked, "Who did these?" I said, "Megan, she's 5." "Impossible!" declared Louise. Then she had paper brought and gave Megan her own "favorite" red Sharpie to use. Under pressure, Megan drew a very respectable princess. Louise held it up and examined it. "Hmpf," she said, and turned to the next artist.