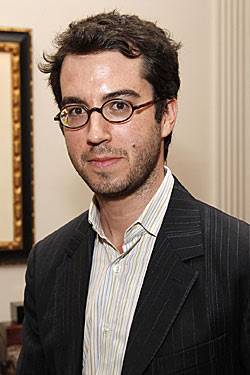 The New Yorker's "20 Under 40," its picks for the best young fiction writers working today, has arrived. It's half boys, half girls, and, unlike American Idol, full of thirtysomethings. Thirty-nine-year-old Chris Adrian, who has written a short-story collection and two novels, and has another coming out this year, is the oldest person on the list. Born in 1970, he just sneaked past the deadline. The youngest person on the list is Téa Obreht, who is all of 24. (The only other twentysomething to make the cut was 28-year-old Karen Russell.) Obreht's debut novel, The Tiger's Wife, will be out next year. Eight of the writers selected — Daniel Alarcón, Jonathan Safran Foer, Nicole Krauss, Nell Freudenberger, Yiyun Li, Gary Shteyngart, ZZ Packer, and Russell — were on Granta's "2007 Best of Young American Novelists" list. Despite earlier promises that the list would contain some surprises, there aren't very many here, though New Yorker editor David Remnick is unconcerned about this criticism: "For those people who feel they already know Writer X or Y or 1 through 20, so be it." See the complete list after the jump.
Chimamanda Ngozi Adichie, 32
Chris Adrian, 39
Daniel Alarcón, 33
David Bezmozgis, 37
Sarah Shun-lien Bynum, 38
Joshua Ferris, 35
Jonathan Safran Foer, 33
Nell Freudenberger, 35
Rivka Galchen, 34
Nicole Krauss, 35
Yiyun Li, 37
Dinaw Mengestu, 31
Philipp Meyer, 36
C. E. Morgan, 33
Téa Obreht, 24
Z Z Packer, 37
Karen Russell, 28
Salvatore Scibona, 35
Gary Shteyngart, 37
Wells Tower, 37.