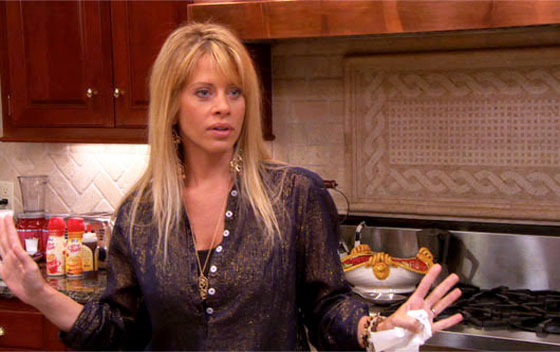 Breakups are collaborative by nature, requiring at the very least some consensus as to what constitutes reality. Even when the decision is completely unilateral, it still takes two to end a relationship — one person to make it happen and another to acknowledge that it's happening. Otherwise, where is the sense of accomplishment? Where is the joy? Where are the results? At its simple best, a breakup takes people from a mutually agreed upon state of togetherness to a mutually agreed upon state of not being together anymore. But when the two halves of the disintegrating couple inhabit entirely different realities, well, that's when things can get weird and stalky, and the end of a relationship can start to resemble a tree falling in the forest, or the sound of one hand clapping, or anything else that may or may not be happening/possible. Breakups are hard enough without throwing metaphysics into the mix.
So, you see Dina's problem. Last week, she asked Danielle to meet her at Chakra (because where better to go in Paramus to rid oneself of unhealthy energies?), and yet it never crossed her mind that Danielle was secretly looking forward to the meeting. You could tell by the twinkle in her eye and the menu in her hand. Naturally, things got ugly fast. Danielle accused Dina of violating her personal space, Dina pointed out that they were in a restaurant. Dina got up to leave, Danielle said, "If you're leaving for the right reasons, then I bid you adieu." Finally, Dina leaves and Danielle asks Danny and John to come inside for a hug. They'd been out in the parking lot, waiting for a showbiz career.
We don't like to dwell too much on Danny and John because it's bad manners to stare. But we feel we should acknowledge the role of the show's Lenny and Squiggy in giving RHONJ perhaps its only non-suburban element. Honestly, could RHONJ be any more suburban? (A conclusion underlined every time our DVR picks up a few minutes of RHONY before this show begins, reminding us yet again of the unbridgeable — and untunnelable — distance between the two shows' ladies.) Let's examine the evidence:
Suburban Story Line No. 1: Jacqueline, Teresa, and Caroline take the fams to a place called Allstead Farms to climb the haystacks, gawk at the enormous pig genitals, and gently prod the wayward teenagers into an early, doomed marriage. Chris and Joe glare at Ashley's boyfriend Derek and decide it's time he submit to an initiation. We'd like to think that the aubergine color of Joe's face is related to feelings of shame brought on by his staggering debt, but more likely it's funnel cakes or something. Highlight of the evening: Ashley talks back to her mother and gets thrown out of the house.
Suburban Story Line No. 2: Men's poker night in the rec room! This story comes complete with a pregame excursion to the Pork Store for some "prozhoott" and "mortadell" and also for the gratuitous Sopranos allusions. Among the guests that night is the guy who leaked Danielle's sex tape, only it turns out he didn't. It turns out that the tapes feature Danielle flying solo, and that she texted them to him. Also, if this guy is 26 then he must also be Benjamin Button.
Suburban Story Line No. 3: Danielle and her new pack of besties, Kim G., Kathy, Anna Maria, and Sue get together to hear all about Danielle's meeting with Dina. Danielle's version of events differs somewhat from what we've just seen happen. It's like Rashomon, only stupid. Later, the friends "decide" (unprompted, we're sure) to encourage Danielle to start dating again by helping her get back in touch with her sexy. Lingerie-shopping trip! Stripper class! Will that fleeting glimpse of Kim G.'s crack on national TV as she tries (and fails, hilariously) to hoist herself up the pole finally put an end to this decade-and-a-half-long nonsense about how empowering it is to air-hump a pole while dressed like a skank? Well, we can dream.
But the big revelation this week is that — hey! A couple of not terribly uninteresting things happened! The first is that Dina Manzo decided to leave the show, and the second is that she'll be replaced on the cast by none other than the backstabbing two-faced Kim G. This is good news indeed. If there's one thing RHONJ desperately needs, it's another psycho villain to balance things out, so we applaud the choice of Kim G. — who, by all appearances so far, seems to be an unrepentant sociopath who is already playing both sides against each other. We are, in fact, obsessed with Kim G. Too bad it was Dina who left and not that thawed human Tater Tot Jacqueline. We'll miss Dina's bizarre teal eyes and New Age tips, we really will. We'll miss you, gross cats!