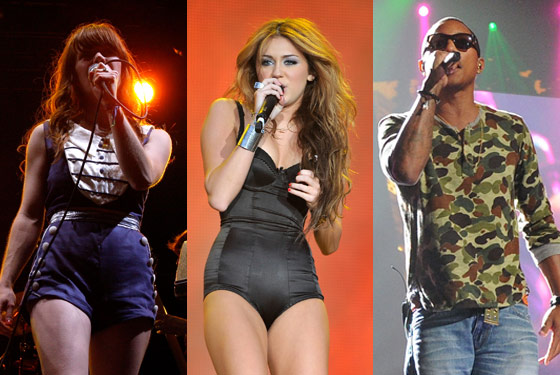 It's been two weeks since Vulture last dropped in on the Song of the Summer race, and … nothing much has changed: Yes, America has spoken, and America is saying that "California Gurls" — holding tight to the top spot on the Hot 100 — totally knocks. Are there any imminent takeover possibilities? Travie McCoy's "Billionaire" continues to acquit itself well, up to a peak position of No. 4, plus the usual suspects (Usher, Ke$ha, Lady Gaga, Drake) are all hanging around. There's also a new long-shot contender: Mike Posner, whose new-to-you mixtape smash "Cooler Than Me" has somehow sneaked into the top ten. And yet — Perry's hold is strong.
Isn't there anyone out there able to shake things up? Maybe! Thankfully, the summer release schedule packs a few more big names, all of whom still have a chance of inserting themselves into the conversation. The following artists aren't real contenders yet, but may prove to be worthy challengers before this thing is over.
Miley Cyrus
Another day, another exposed-crotch controversy. Does all that attention mean something off grown-up album Can't Be Tamed, released Monday, could still take off? Not if the whole thing is as humorless as the title track.
T.I.
Post-prison comeback album King Uncaged is out August 17. Did D.J. Toomp happen to sneak any other massive "What You Know"–type beats on it? For now, let's just hope the music lives up to the fantastic album cover.
N.E.R.D.
"Hot n' Fun," the lead single off N.E.R.D.'s Nothing, is a little too restrained for SOTS. Still, Pharrell's manufactured so many smash hits for other artists; logic dictates he'll eventually manage one for himself.
M.I.A.
If current results hold, M.I.A. will release /\/\/\Y/\ on July 13, and there will be no hit singles on it. That is crazy! If Maya cares at all about deading Lynn Hirschberg–boosted haters, she needs to get back in the studio to whip up one "Paper Planes"–besting smash, and fast.
Jenny and Jonathan
Rilo Kiley front woman Jenny Lewis's new project — a collaboration with her boyfriend Jonathan Rice — could be a problem for the indie set. First track "Scissor Runner" is as adorable as the concept of Jenny Lewis being in a band with her boyfriend.