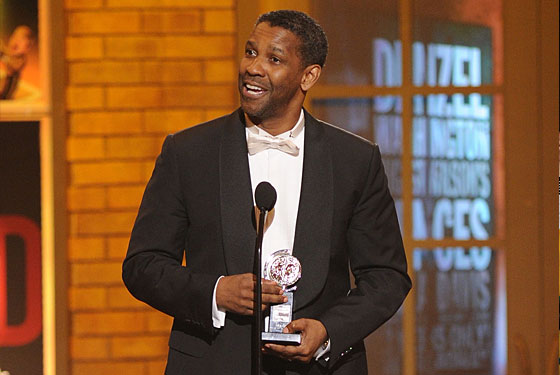 First of all, congratulations to last night's biggest winner, Glee. CBS, waking up the morning after with its annual sequin hangover, must be wondering if promoting a Fox hit was reason enough to carve three poorly directed, acoustically nightmarish hours of Broadway onanism out of its Sunday-night schedule. (Everyone knows the Tonys are just a spangled wank for big-ticket New York theater — I, for one, am fine with a little naked promotion — but golly, this particular awardscast contained so many inept moments, from technical flubs to old-fashioned directorial incompetence, it met a more literal definition of "self-abuse.") Well, here's hoping it was worth it: Featuring YouTube-quality production values, this year's Tonycast was Broadway's half-screamed Fanny Brice bid for its future, its desperate webcam audition tape for a role in American popular culture in the coming decade. How could a show open with such a display of raw talent — charming-and-charmed host and Promises, Promises nominee Sean Hayes masterfully tickling the ivories, more blistering song-and-dance energy than an army of synchronized wheelchairs — and still end up giving off the distinct death reek of a Chris Klein audition video? How could they manage to shrink the Great White Way to the size of a nano-screen? Ah, but enough theorizing: Yawn, I mean, on with the shows!
Yes, actual shows won awards last night, too, as did actors, some of whom weren't even Hollywood celebrities. (All of that was admittedly easy to miss, amid the relentless Glee teases and star cameos: "Next up — we swear! — real, live, un-Auto-Tuned performances from Lea Michele and Matt Morrison! Plus another shot of Jay-Z silently praying no one will sit on his lap!") Which shows and actors took home the American Theater Wing's top honors? More or less the ones the market predicted and decreed. Scarlett Johansson's perfectly deserved win for Best Featured Actress in a Play (A View From the Bridge) sanctified the Hollywood-Broadway union early in the night. Commercial smash Fences took Best Revival of a Play, with top honors also going to its ultrabankable lead Denzel Washington and the inarguably great Viola Davis. In other coolly anticipated developments: The Menier Chocolate Factory's reupholstered La Cage aux Folles took Best Revival of a Musical and Best Leading Actor for the celebrated Douglas Hodge, and another London import, the Donmar's muscular, middlebrow Mark Rothko bioplay Red, absorbed six encomiums, including Best Play, Best Director (Michael Grandage), and Best Featured Actor in a Play (Eddie Redmayne, edging crowd favorite Stephen McKinley Henderson, the second-hardest-working man in Fences). It was the night's most impressive haul, though it pointedly lacked the one win it probably deserved most, a Best Actor crown for Alfred Molina. But hey, that's just the collective mule-trading of awards distribution, especially when the people doing the distributing are the ones with the most at stake, financially and reputation-wise. Which brings us, I'm afraid, to Memphis.
Memphis, a cartoon composite of early rock history scored by Bon Jovi keyboardist David Bryan, took Best Musical. This was not a surprise; it had been predicted for weeks, as the initial thrill of Fela!'s eleven nominations wore off and a justifiable hunger grew for an original musical with an original score. The choice made sense, on a level of pure math: It's a freakishly weak year, and Memphis, despite middling reviews, was the uncontested populist winner, muddling its way to box-office success not with star-casting, but with the sheer incandescence of its propulsive ensemble numbers and its indefatigable leads, Chad Kimball and Montego Glover. Is it better than The Addams Family? Yes, just. Is it good? No. And this, I'm sorry to say, is the litmus test: Can you imagine any of the songs from Memphis being sung on Glee? Ever? Are snoozy Auto-Tunes like "Steal Your Rock and Roll" and "Music of My Soul" really going to furnish "wheelchair moments" for Broadway's most significant aftermarket (which is rapidly becoming its fore-market) a season or two from now? Memphis is a default win in a default season, and while I can't find myself lamenting the snub of the overpraised American Idiot, there's something ineffably depressing about this shrugging embrace of the utterly colorless. Not quite as depressing as watching Denzel blow off his awards speech or witnessing the wildly over-Tony-ed Catherine Zeta-Jones (Best Actress in a Musical winner for A Little Night Music) wetly extol the virtues of sleeping with Michael Douglas, but still: depressing.