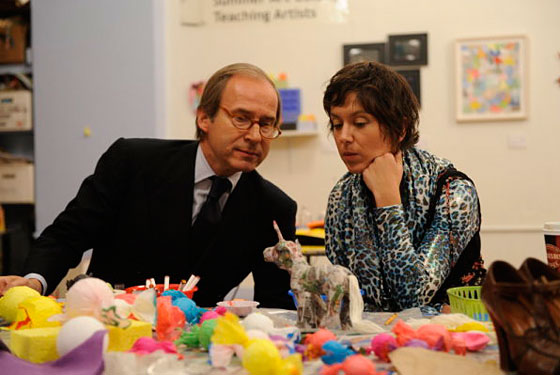 This week's Work of Art began with an evil fake-out. Simon surprised the artists while they were having breakfast, gleefully declaring in his punchy, high Swiss-European accent, "Today, artists, we are going to an amazing museum where some of the greatest artists in the world show their work." (I can imagine Simon doing Burger King commercials: "Today, we are serving an ahhmazing Whopper!"). The artists all happily assumed they were going to a real museum like the Met or MoMA. Then Simon took them on the subway to SoHo (you can imagine this aristocratic peacock on the F train) and — d'oh! — the Children's Museum of the Arts. I love children's art and have nothing against the Children's Museum. But honestly, I've never been there. I'm not sure I even knew it existed.

But the artists couldn't, of course, say, "You dick! Why'd you bring us here?" Simon first told them to sit at kiddie tables (which made me want to stage a rescue mission). I dreaded hearing him say the challenge was to "make something childlike." (Everyone in the art world knows that trying to make art like a child is certain to result in phony work.) That was the fake-out. The challenge was actually to "create a work that is symbolic of the moment that your artistic expression began." And it had to be done in one day, in the Children's Museum, using only tools and supplies available there. That meant no knives and lots of pipe-cleaners.
Miles said the challenge made him "want to throw up." (I don't remember hearing contestants say that on Top Chef.) Then he did what a lot of artists would do: He went pirate, saying, "You have to make the challenge work for your art, not the other way around." He happily made a ho-hum duck tape grid he said he'd "made before." Mark scowled, claiming "that's cheating." I just call it making your work. Mark, though, rose to the challenge with an intriguing book, a personal origin-tale by way of illuminated manuscripts and Dr. Seuss (nice job, Mark). As usual Abdi made something with a super-hero — only this time it looked like a loose watercolor, and I liked it. Evidently, however, Simon said something to make him start over, which resulted in boring line drawings, inexplicably installed in a grid configuration. (Artists: hanging things in a grid is not actually a solution.) Nicole made a beautifully poetic piece dealing effectively with myth and memory, again showing how strong she is with materials. Jaclyn talked movingly about painful recollections of being alone, and tried to recreate them in a mundane drawing of a tree with some pipe-cleaners. The work died.
Read our exit interview with Ryan here.
As a judge I don't get any back-story or real explanation of the work. I just see it, as is I do in my "real" job as a critic. Yet hearing Ryan talk about having "only $24.00 in the bank" and reminiscing about his Jehovah's Witness mother and how he's "an outcast" to his family at least helped me understand what he was trying to touch on in his work. He inhabits the fraught space between doing what you have to do and knowing you'll be shunned by your loved ones for it. Had I judged Ryan only from watching the episode on TV, he wouldn't have been sent home.
I glimpsed Ryan's inner temple and how work opened doors for him. But his work didn't open doors for me. Most art has to function autonomously; an artist has to be able to embed thought and emotion into material. Ryan's work didn't communicate his intended content on its own. Jaclyn's half-baked pipe-cleaner thing and Abdi's simplistic graphic-grid should have gotten one of them sent home. But both of them had made positive impressions on the judges in previous weeks. Not to make this more depressing, but had Jeanne not been in Europe the week this episode was shot, I imagine that Ryan might have been spared. She always spots things in his work to like. In the end he said he was "shocked and surprised" to be leaving. He was right to be. He could have stayed. And he also got it right when he sighed, "At least now I'll be able to make my own work without having to explain it to anyone." I'll be looking for you, pirate Ryan.
Read our exit interview with Ryan here.