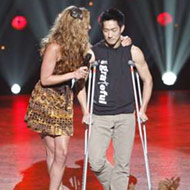 So You Think You Can Dance might as well have been renamed the Trail of Tears last night when overwhelming favorite Alex Wong abruptly left the show after suffering a lacerated Achilles tendon. "Which means it has detached itself from the bone," executive producer Nigel Lythgoe explained as the faces of everyone in the theater — Alex, the judges, the other contestants, the audience, and, assumably, the cameramen, gaffers, and mice who live in the walls of the theater — glistened with tears. (Amazonian host Cat Deeley, strangely, did not, but she could be chipper through anything.) Wong is scheduled for surgery on Tuesday, and then has to be on three months of rest, with an 80 percent chance of coming back to full form, otherwise known as a 20 percent chance he won't dance again.
Alex's fate seems particularly cruel, considering how much he had to sacrifice to get on the show. He tried out last season and was picked, but his boss wouldn't let him out of his contract with the Miami City Ballet. (That the boss stifling his dream was pioneering ballet legend Edward Villella seems particularly ironic.) This season, Alex had to go through the grueling audition process all over again; he even left the MCB hoping he'd make the cut, with no guarantee he'd be able to get his job back if he didn't. When he finally did get chosen, he was extraordinary. Judge Mia Michaels declared his contemporary routine on night one, "the best piece of work danced on the So You Think You Can Dance stage up-to-date." Upon seeing Alex's hip-hop routine the week before the accident, Nigel declared it would win an Emmy. And now, one month into the competition, simply because he landed wrong while jumping during rehearsal for a Bollywood routine, it abruptly ended. "How do you feel?" Cat asked him. "My heart hurts a lot," Alex replied, as everyone in the room burst into tears once again. Watch it below, assuming you want to kick off your weekend with a good cry. (We've put his two standout dances below that … which might actually just make you feel worse, come to think of it.)


Here's his Sonya Tayeh contemporary routine about salvation on night one:
And here's his Tabitha and Napoleon hip-hop routine with Twitch during the top nine performances.