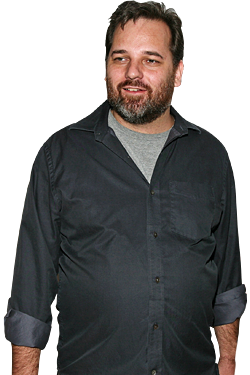 The good news for fans of Community is that there are only about six more weeks left before the show returns to NBC for its second season. The bummer: The show — which did surprisingly well in a tough 8 p.m. Thursday time slot last season, but was far from a breakout hit — will now square off against another smart, well-written comedy filled with lovable nerds, CBS's massively watched The Big Bang Theory. Vulture caught up with Community creator Dan Harmon in Los Angeles recently at the TV Critics Association press tour. He was surprisingly chill about the whole Big Bang situation and served up interesting takes on the role of guest stars (like Betty White, who's in the September 23 season premiere), what's in store for this year's Halloween and Christmas episodes, and how he's planning at least three episodes designed to make series regular Donald Glover's head explode.
So how did you take it when you heard the news that The Big Bang Theory was relocating directly opposite Community?
My reaction was, Oh, of course. Because of my ongoing relationship with a very mysterious God, things get really, really good all the time, and I feel like I'm failing upward. But I'm always getting to these next levels of this video game of life just as the heavy gunfire comes in. So it felt perfectly appropriate and poetic. I was like, Oh yeah, that's it, that's the other shoe. But it's also cool. You've got to love CBS for saying, "Let's make Thursday nights about comedy again." I agree. Let's do it. Plus, even if you're losing a boxing match, you have to look at it as if you have the best seat in the house for a great fight. If you had told me five years ago that [this] would be my problem, that Skynet had dispatched the Terminator to step on my skull on its way in to destroying NBC's Thursday night, I'd be like, "Holy Cow, that's the life I'll be living?"
So you're fighting back by enlisting the aid of Betty White.
I don't like to acknowledge that I'm engaged in any kind of competition. I'm a creative. And I follow my bliss like Joseph Campbell told me to.
How did you end up with her on the show?
Betty White happened to be hanging around and I thought, Gee, she seems to be popping. She's a young face in TV! Truly, though, it was sort of serendipitous. I think maybe it was because of a relationship with Jeff Zucker — not that kind of relationship — but she did SNL. And then it was like, "Would you want her to do the first episode?" And I was like, "Yeah, absolutely."
Will she be in more than the season premiere?
I'd like her to be. In fact, it's a definitive yes. I was originally saying it was up to her. But now, it's not up to her. I'll chloroform her if I have to. I watched her work with the guys on set. There's hype, and there's backlash, and then there's reality. And the reality is, she is sharp. There is something about experience and chops combined that is not respected in TV by and large these days. We kind of make our people in vats, and the sexiest ones we parade around. But the people that are good at it because they've been doing it for a long time, plus they were born really good at it — wow. It was a transformative experience.
Did she play well with Chevy Chase?
The first thing she did when she arrived was to take a shot at Chevy. She instantly became family.
The off-set careers of your cast are heating up. Do you worry about losing them at some point? Or, if the show doesn't last beyond this season, that we'll all look back in five years and think, They could've been big TV stars?
For me, it's a motivation to make hay while the sun's shining creatively. There's not a single person in that ensemble who's being tugged along by anybody else. I look at that as a huge amount of pressure to not be the guy who is holding anybody back. When I sit down to write, I say, Don't be the unfunny thing that Donald Glover is doing in his career. Don't be the thing that he's doing to pay the rent. Be the thing that he looks forward to punching the clock and doing. That goes for everybody.
The "Modern Warfare" paintball episode really helped get the show attention. It was a favorite of NBC execs and fans. So of course, the question arises: Will there be a sequel?
The actual thought of actually repainting paintball itself? I'm not averse to that. Normally I'd be compelled to go, "Oh, that's the only thing off the table." But then the idea that it can't be topped becomes such a challenge to me. The reason I wanted to do the original paintball episode is because there's these rules on the walls in the alchemy lab that say, "Don't mix Clorox with Mr. Bubble. It's not a marketable product. It'll only kill you." But I always wanna figure it out; there's got to be a way to do it.
I think another paintball episode would be a way to do the unthinkable. It was a permission slip from the audience: "Dan, you can be a fan of the show, too." I don't want to push it too hard, but I'm going to push it a little bit. I don't want to stay stagnant and do 1 out of 25 episodes that pushes that envelope. I want to do 20, 30 percent more … I want to do enough more of it like you would do if you touched a girl's hand, and she didn't flinch. So you touch it a little more and see where it goes.
What other kinds of Big Episodes will we see next season? At Comic-Con, you mentioned a riff on Apollo 13.
I do want to send them to outer space. I know you can't literally send them to outer space. But for the fourth episode of season two, I'm going to do the equivalent of sending them to outer space. And the Halloween episode — while last season was definitely a great episode, it wasn't like paintball. This year, Halloween will be sort of tweaked. It will be heightened. I think it's enough to say, I want Halloween to be the equivalent of paintball for the first six episodes
Will there be blood?
Yeah, there will be blood. There will be blood. I will drink America's milkshake. If their milkshake is lack of entertainment, I will drink it. That won't track. Don't print that. But there literally will be a little bit of blood.
I look at it like Ghostbusters, which was following in the footsteps of Abbott and Costello Meets Frankenstein: Comedy and horror, much like comedy and action, people often make the mistake of thinking they don't mix. But comedy mixes with anything. Comedy is the salt of entertainment cooking. You're always craving it; you can put it on anything. I want to do something that, like Ghostbusters back in the day: I was jumping out of my seat in fear sometimes, but then always laughing because it was Bill Murray.
Will Donald Glover's Mystery Team cohorts somehow be involved?
I don't know about Mystery Team, but Donald will definitely be involved. There are three episodes in a row coming up where, if I texted to Donald what he'd be doing, his mind would be blown. It wouldn't even make sense that he'd be doing it in a sitcom. I think we're going to be able to go to places this season that sitcoms aren't traditionally known to go, but without shattering any timber of the fourth wall or without devolving into conceptional cutesiness. I want to keep the world real and the characters real, while just striving to entertain on a level that only a drowning man might.
Does that also mean more guest stars of Betty White's caliber? I'm sure NBC would like to see plenty.
Part of the original pitch of the show was, it's community college; strangers drift through. It's part of the charm of this universe. It only accentuates the insular family feeling of our regular cast, to bounce crazy aliens off of them and challenge them in weird ways. My decision on stunt-casting is: If it's a stunt to the network, terrific. But it needs to be an interesting story to us to justify letting a stranger walk into their lives.
Any dream guests for the show?
I've been trying to get John Hodgman on the show for some time. I'm a Twitter buddy of his. He even came by the office and visited me. I just enjoy the guy. But actual dream? If I can get Bill Murray on the show … well, it will never happen. But that would be, on many levels … the top of the list. If I could wave a magic wand, I would start writing a very, very interesting character for him tomorrow, and have him woven into the series for a couple of episodes. Then I'd kill myself after the second season. I'd go, "I'm done."
Back to big episodes. What else is planned?
Christmas is going to be really cool. I kind of want to do a stop-motion episode.
Like Rankin-Bass?
I don't know. I think we've closed the book on observing the Rankin-Bass style. But I'd like to try for something like Coraline, in terms of sophistication. I'd want to make a new classic. Obviously, Rankin-Bass would be an inspiration for story line: Somebody would be saving Christmas from something. You'd have a little adventure and meet lots of characters. But I don't think our key demographic would care. I'd rather give them their own new Rankin-Bass.
You really like the out-there episodes.
Yeah, but the reason I want to do stuff like that is not because I hate just doing a sitcom with these characters as they are. It's precisely the opposite. When you do something [different], you emphasize the fact that the characters are distinctive. I remember being a kid and going to Toys"R"Us and seeing a Cheers board game, and reading the description: "You can be Cliff Clavin and have a conversation with Carla!" It stuck in my head that your show has to be really, really good in a really distinct way to suffer that adaptation, to be able to live in different media. It means your characters are distinct and definable.
It seems like you did a lot of that during the first season. Were you sort of worried you might not get a second year, and so you'd better push the envelope while you could, since you might not have the envelope for long?
I've learned by now — not in a jaded way, not in a defeatist way, but in a very positive, be-thankful-for-what-you-got way — that you've got to assume that you're canceled tomorrow after every episode. I was thinking paintball needed to happen in season one, because God knows there might not be a season two. I was like, I've got to do this while I still have access to all this money.