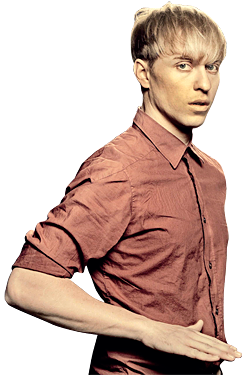 The rise of the Drums — the Brooklyn-via-Florida four-piece described (by themselves) as "Joy Division meets a beach-party record" — hews so closely to the aughts' buzz-band template it may well one day end up as a case study in a music-industry college course textbook: From a breakout festival appearance (May 17, 2009, Popfest) to instantaneous blog acclaim (BrooklynVegan, reviewing the show: "Nobody knew what was in store … ") to, well, the world. Ahead of their current international tour (they're playing Australia tomorrow, then Japan, then Finland … ) and their self-titled full-length debut (due in September), the Drums front man Jonathan Pierce spoke with Vulture about staying sane in the music industry.


You had that "buzz band" tag applied to you very early on. How aware are you of the press coverage around your band?

You know, we're human: We're in the middle of it all; it's impossible to not be aware of it. What we've found is that by staying busy, being creative, we don't really have time to dwell on what people are saying. We direct our own music videos; we do our own artwork; we write, record our own songs: There's not much time to come up for air. We're trying to stay true to our original mission to write simple pop songs, and not get caught up in the trends and the fads. We get asked all the time what will the second album sound like, and we say, "It's going to sound the same, just different songs." We're not interested in progressing.


What have you learned about the music industry since the band first started getting attention?

I feel the music industry will always be about one thing and that's money. There's nothing that ruins music faster or more effectively than money does. I guess any advice that I can give to anyone starting a band is just to be completely utterly selfish when you're being creative. When we signed to our label we were offered the biggest producers and some of these producers were people we always looked up to and really respect. We had to politely decline because we just don't want to make changes. You're doing something that you believe in, why do something different? Just so someone else can sleep better at night? When you put the album out, that album is out there forever. You have to live with each and every one of those songs; that's your legacy. I'm just not willing to compromise. I need to be able to stay away from the idea of committing suicide, and I think if I start trying to please people around me it'll start heading that way.


Is there a big difference between the music on your Summertime! EP and your full-length?

Basically, I was living in Brooklyn, and Jacob, my best friend for my whole life, was living in Florida. About a little over a year and a half ago, I called him and said, "Jacob, I feel sort of desperate to do something. I feel like I have no direction." And he said, "Why don't we start this band that we've always talked about starting?" So I moved to Florida, and we started writing, and we wrote about 30 songs down there. There were about six or seven that had this blatant summery feel to them, so we decided to group them all together and make that the Summertime! EP. Naturally what was left was the more seriously toned songs, the more personal, introspective songs. When we moved to New York we wrote a few more, and we felt that we completed the album, and it was a really satisfying process. The whole time we did it we had no pressure at all. We thought we'd be the only people that would hear it.


So is there a big difference between the Florida songs and the New York songs?

I'm a very conditional person. I did most of the songwriting on the album and I've always been aware of my surroundings, so much so that when I started the band I had to leave New York. Moving back to New York, I think I wrote the most personal and the most heartfelt of those songs. Some were written in my bedroom, some in my kitchen. And they were written and recorded right there, and that's the version that you hear on the album. They sound a bit more claustrophobic, which I think is quite telling of the situation.


You've explained repeatedly that your song "Let's Go Surfing" isn't actually about surfing.

We wrote it on inauguration day when Obama was coming into office. To us, it's a feeling of unbridled freedom, the old romantic feeling. You know, the photo of the nurse and the soldier in Times Square. I think the whole country felt like it was let out of jail. We certainly are not a political band in any way, but it was hard not to get swept up. It felt like you could come up to a complete stranger and give them a hug and kiss and they'd hug and kiss you right back. And that's what's great about pop music: You can take it at face value. You can listen to it and have it be about surfing for you.


We're streaming your song, "Down By the Water." What's the story behind that one?

When I moved from New York to Florida, it was in the dead of winter, and suddenly I was in Florida and it was sunny every day and it started to make me start craving the girl groups: the Supremes, the Ronettes, the Shangri-Las. I've always liked those songs but i became really fascinated by that whole culture. You'd be hard pressed to find a song by any of those groups that isn't beautiful; they have so many examples of perfect pop songs. I wanted to write a song that was a tribute to that style of songwriting.