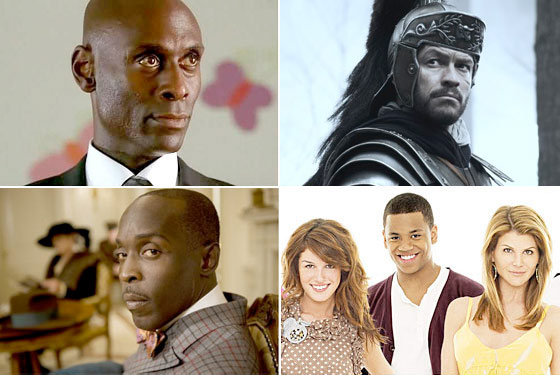 Back in the far-off land of May 2008, with The Wire's fifth and final season freshly over, Vulture took a look at the future résumés of the shows' previously unknown but now totally beloved actors. The idea was both to monitor David Simon's assertion that Hollywood doesn't hire enough black actors and to find bountiful chances for Wire fans to play the "Hey, it's [insert name]!" game while watching television.
Now, with this weekend bringing us two movies from former Wire greats — the in-limited-release Centurion, starring Dominic West (McNulty) as a stranded Roman general, and the aforementioned Takers starring Idris Elba (Stringer) as a taker (we assume?) — it's time for: The Wire Alumni Watch, Part II. (By the way, we may eventually get around to doing a Lost Alumni Watch, but for now enjoy Daniel Dae Kim having sexy splashy time in the poster for Hawaii 5-0.)
The first time around, the visible trend was that the criminals were landing more roles than the cops. But this time the only real takeaway is that the actors who managed to land roles right after The Wire are still out and about. Lance Reddick (Daniels) is more famous than ever thanks to Fringe, and he's hinting at a larger role for himself heading into the show's third season. After a few smaller parts in The Road and Life During Wartime, Michael K. Williams (Omar) is back on HBO in a big way, playing the amazingly named gangster Chalky White in Martin Scorsese's Boardwalk Empire. And as tough as it may be to face, Tristan Wilds (Michael) has now shot far more episodes of 90210 than he ever did of The Wire, meaning a whole generation of kids knowing Wilds as a smiley California teen instead of his true identity: a cold-blooded future robber-of-drug-dealers. Sad.
The title of top Wire alum, though, comes down to a battle between Elba and Amy Ryan (Beatty). Elba — who anchored a minor hit with the Beyoncé-co-starring Obsessed and has the New York Magazine approved Luther on the docket — is certainly more visible (on the other hand, he is also in Takers). Ryan's success is more surprising: Yeah, she came on strong in The Wire's fifth season, but there was never much reason to suspect she'd break out after the show. But she has! There was the well-deserved Oscar nomination for Gone Baby Gone, and now she's Philip Seymour Hoffman's love interest in his directorial debut, Jack Goes Boating. The difference for Ryan and Elba may come down to their dueling Office appearances, and in that field, Ryan — as the pitch-perfect Michael Scott love interest — has the edge. (Also, Amy Ryan's coming back for Carell's last season, meaning she very well may end up wifed up to two of this decade's best TV characters.)
What else we got? David Simon has kept Wendell Pierce (Bunk) and Clarke Peters (Freamon) gainfully employed on Treme. West is doing alien warfare blockbuster John Carter of Mars, but that's not out for a while. Gbenga Akinnagbe (Chris Partlow) had a run on The Good Wife and just popped up as the bully in Bow Wow comedy Lottery Ticket. Michael B. Jordan (Wallace) had a hefty role on last season's Friday Night Lights, and will also be appearing in George Lucas's Red Tails (Andre "Bubbles" Royo is in that as well). Isiah Whitlock Jr. (Clay Davis) did a couple of episodes of Rubicon, although as far as we know he didn't get to go "sheeeeeit" at any point.
Okay, who'd we miss?