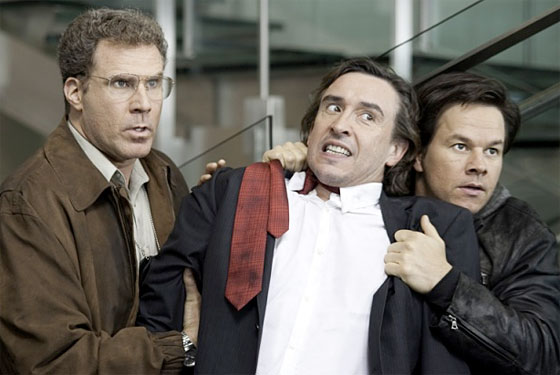 THE WEEKEND'S WINNERS: Sony's Ferrell-Wahlberg mismatched-cops comedy The Other Guys opened to $35.6 million, finally dethroning Christopher Nolan's Inception — which placed second with $18.6 million, bringing its domestic cume to $227.7 million after four weeks in release.

THE WEEKEND'S LOSERS: Wet, three-dimensional dancing — Disney and Summit's Step Up 3D came in third with $15.5 million.
HOW IT ALL WENT DOWN: Sony's having a great summer, releasing three hits in a row. All three of them were original films — or at the least The Other Guys, Salt, and Grown Ups all lacked a numeral at the end of their titles. Coincidence?
(A Columbia Pictures spokesman confirmed that Other Guys tilted a bit male [56 percent] and somewhat younger [55 percent under 25; 18 percent under 17], so enough already with the argument that young men don't go to the movies any more, Hollywood.)
So, how'd Sony do it? Explains one head of marketing at a rival studio, "Everyone says, 'You gotta go outside The Box!' — but, here's the thing: The box still kinda works just fine. The Other Guys had a funny trailer and funny TV spots. Then the publicity hit the weekend before last, and all of last week. If you have a Cloverfield, a Where the Wild Things Are or an Inception, sure, go outside the box. They know when to use the box."
Meanwhile, Disney's Step Up 3D proved that your grosses don't always look bigger through cheap, plastic 3-D specs: Step Up 3D made only $15.5 million this weekend — and that's with over 80 percent of Step Up 3D's receipts coming from 3-D theaters, where tickets can cost $2-$3 more than a traditional 2-D showing.
Compare that to the first Step Up, which made over $20 million in it's opening weekend and eventually grossed close to $65 million, or to Step Up 2: The Streets, which opened to almost $19 million on it's first weekend, and grossed almost $60 million domestically, and you see how the third film's far more modest opening represents a clanging alarm bell for Hollywood studios and theater owners deluded into thinking 3-D was a panacea. It would seem that those who saw the third Step Up this weekend went in spite of the fact (and not because) it was in 3-D. As one rival studio marketing chief put it, "This should have been the easy one, not the hard one."
If only Disney had heeded the instructive words of Step Up 3D protagonist Luke (Rick Malambri) in the film's trailer: "Some people learn to dance — others are born to." Teach 'em, Luke!
YOUR TOP TEN:
1. The Other Guys ($35.5 million)
2. Inception ($18.6 million; $227.7 million)
3. Step Up 3D ($15.5 million)
4. Salt ($11.1 million; $91.9 million)
5. Dinner for Schmucks ($10.5 million; $46.7 million)
6. Despicable Me ($9.4 million; $209.4 million)
7. Cats & Dogs: The Revenge of Kitty Galore ($6.9 million; $26.4 million)
8. Charlie St. Cloud ($4.7 million; $23.5 million)
9. Toy Story 3 ($3 million; $396.3 million)
10. The Kids Are All Right ($2.6 million; $14 million)