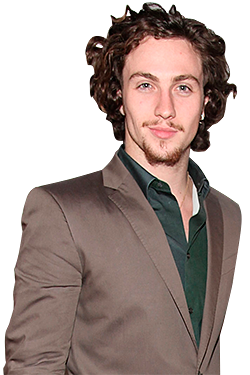 Aaron Johnson has played Carey Mulligan's beatific beau in The Greatest and McLovin's goofball superhero nemesis in Kick-Ass. Now he's getting to play the heartthrob and hero all at once, as the most crushable Beatle in the new John Lennon biopic Nowhere Boy, which focuses on Lennon's years in Liverpool, just before forming the Beatles. Vulture spoke to the British-born 20-year-old about the pressure of playing a pop idol, what he means when he says Lennon was in love with his mother, and Johnson's own love, 43-year-old fiancée Sam Taylor-Wood, who directed the film and became a mother to their daughter this summer.
While you're in New York, you're staying uptown at the Trump. That puts you closer to the Dakota, where Lennon lived …
The Dakota is absolutely gorgeous, but there's such a strange vibe over there. To be in front of that building is kind of spooky. After spending five months in that character, I felt emotionally attached. Standing outside was pretty upsetting. The energy around there is bizarre.
Did you do any Lennon tourism to prepare for the role?
There are tons of museums in Liverpool, and you can even go around the house, [his] Aunt Mimi's, which is preserved. It's spooky, because it's like, this is where John slept, and this is where he did his drawings, and this is where he played guitar. But I got a lot more from listening to his tapes and interviews with him. I paid attention to his inspirations as well, like Elvis and Buddy Holly. I was learning to play guitar at the same time, so I had to sing those songs and figure out how Lennon would hear them. Researching, I almost had to cut the Beatles out and go to later in his life, when he met Yoko, to his solo albums and the interviews he gave after the Beatles broke up. Those were more crucial to understanding his early years.
Was there one particular interview or film without which your performance would have been totally different?
There was a piece I read in Rolling Stone that made me change my performance, actually. You look at Elvis and he gyrates his hips, right? He has the wide stance and strums the guitar aggressively, so I thought, What happened? Why does Lennon stand still? And it all came out in this interview that when his mother died, he felt bitter inside. The Beatles was a front. He put it all away. He was mad at the world. But before that, there was this woman, his mother, who was in his life and he was in love. When he was playing, he was really free with it. [In the film,] he's at that age where you're not a man yet, you're naïve, innocent, insecure, and vulnerable.
Related: The Many Onscreen John Lennons: Who Nailed Him and Who Failed Him
In the film, Paul really comes across as almost savantlike, insanely gifted but not tortured, and John is the mad one …
John used music as a way to create art, to express his feelings and emotions. Music was just the right outlet at the right time. He's got something bad in him. With Paul, it's just music; it's just something he can do.
Speaking of love, you met your fiancée, director Sam Taylor-Wood, through this film. How did that impact the experience of making this film?
Me and Sam didn't get together until after. While we were making the film, I think we were falling in love kind of without knowing it, which is why it's so special. We worked really well and intimately together. And we were so intensely in line with what we were doing with the character — almost in each other's heads, constantly trying to unravel and perfect things. We became very close … It's funny, because we both remember the exact moment when we met each other, but we didn't realize what was happening. Other people have said they could see there was something between us right then, but we didn't know it for a while.
Aw …
Well, I think she's the most incredible woman: creative, talented, and beautiful.
Related: The Many Onscreen John Lennons: Who Nailed Him and Who Failed Him