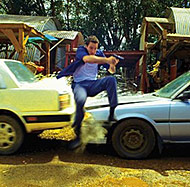 As if deciphering the Nielsen ratings weren't tough enough, the rapidly expanding number of viewers watching shows via DVRs has added a whole new layer of complexity to figuring out what's working and what's not in prime time (this week's magazine takes a deeper look at how networks are scrambling to measure audiences). Take the case of CBS's first-year series Hawaii Five-0: While it easily won its 10 p.m. Monday time slot when it premiered September 20, its initial audience among viewers 18 to 49 was deemed just a little disappointing by many industry insiders expecting a much bigger pop from such a heavily promoted (and well-reviewed) newcomer. Well, yesterday Nielsen issued its DVR report for premiere week (these reports are compiled two weeks after the initial ratings), and when a full seven days of recorded viewing was added in, 5-0 jumped from a solid 3.9 rating in the younger demographic to a much mightier (and almost poetic) 5.0 rating. Even more impressive, the show added nearly 3.4 million viewers of all ages to its overall total — the largest-ever DVR lift for any series, according to a CBS rep.

Among other tidbits gleaned from geeking out over the so-called "live-plus-seven" DVR data (or L7, as the cool kids call it):
— While Glee was crowned the No. 1 entertainment show of premiere week for viewers aged 18 to 49 based on same-night viewing, in L7 it turns out ABC's veteran drama Grey's Anatomy just edged past Glee to claim the top spot. (Modern Family remained TV's No. 1 comedy with viewers under 50.)
— As usual, CW series (which typically start off with a smaller base) boasted the biggest percentage gains from DVR usage: 90210 goes up 44 percent in young adults thanks to TiVo and its spawn; Gossip Girl rises 40 percent. Among the big networks, Fox's Fringe is the DVR champ: It grows from a 2.2 to a 3.1 in the demo, a 41 percent uptick.
— Maybe we don't have to worry quite as much about the future of Community: Its premiere rose 31 percent to a 2.9 among adults 18 to 49.
Looking at things glass-half-empty: Time-slot rival Bones got an even bigger 33 percent lift (to a 3.6), while CBS's Big Bang Theory trumped both with a 6.0 rating.
— Even DVRs aren't enough to save some struggling shows. Sure, Fox's short-lived Lone Star added a million viewers via time-shifting and jumped 30 percent in adults 18 to 49. But its 1.7 L7 rating was still puny and not enough to merit saving. ABC's My Generation, despite its youth focus, benefited even less from DVR usage, adding less than 20 percent to its total from time-shifters.