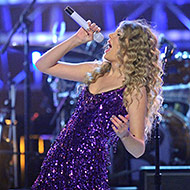 You know, for a while there, Taylor Swift's whole "I write about real things" thing was letting us down (first she forgives Kanye, then she apologizes to Taylor Lautner?). But now Swift has gone and written a song about her relationship (!) with John Mayer and totally redeemed herself. According to Yahoo's Chris Willman (who recently profiled the candid young star for New York), Swift's "Dear John" sure sounds like it's about a certain bed-hopping virtuoso guitarist. Just check out these lyrics!
The first chorus begins: "Dear John/I see it all now that you're gone/Don't you think I was too young/To be messed with/The girl in the dress/Cried the whole way home/I should've known." A second version of the chorus includes the lines: "It was wrong/Don't you think nineteen's too young/To be played/By your dark, twisted games/When I loved you so."
When rumors of a Mayer/Swift romance broke, some of us had a hard time imagining it, because of his rather famously ruinous reputation in matters of love and her ever-present, protective mom. "Dear John" addresses that: "My mother accused me of losing my mind/But I swore I was fine … " And: "You'll add my name to your long list of traitors who don't understand/And I'll look back in regret I ignored what they said/'Run as fast as you can'."
Okay, who else is feeling really uncomfortable now?
Taylor Swift Confronts Mayer, Laments Lautner In New Album [Yahoo]