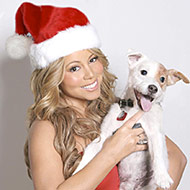 If Mariah Carey spends the rest of her time on this Earth doing nothing other than devolving into progressively more ridiculous satires of herself — with ever sharper stilettos and even tinier dogs — it won't for one second affect the shining, uplifting, joy-unleashing potential of "All I Want for Christmas Is You." Which is just an unnecessarily dramatic way of saying that it's not like Carey's brand-new Christmas single, "Oh Santa" (it premiered today, and it's off Carey's November album, Merry Christmas II You), really sullies the good name of "All I Want" … but it's still annoying in its underwhelming-ness nonetheless. Check it out below and then let us know if you disagree: Should MC have left her sterling holiday-jam reputation unperturbed?
Mariah Carey Released Another Christmas Song
Things you buy through our links may earn Vox Media a commission.