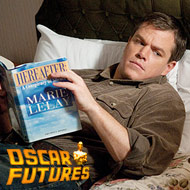 Every week between now and January 25 when the nominations are announced, movies and stars will help themselves — or sometimes, hurt themselves — in the Oscar race. Vulture's Oscar Futures will listen for insider gossip, comb the blogs, and out-and-out guess when necessary to track who's up, who's down, and who's currently leading the race for a coveted nomination.
Best Picture
UP: Blue Valentine. It was off everybody's radar before it got hit with an NC-17 rating (which will almost certainly be overturned). Can the controversy help it sneak in there?
DOWN: Hereafter. A.O. Scott and Kenny Turan loved it, but most critics didn't. Says New York's David Edelstein: "Hereafter occupies some muzzy twilight zone, too woo-woo sentimental to be real, too limp to make for even a halfway decent ghost story."
CURRENT PREDIX: 127 Hours, Another Year, Black Swan, The Fighter, Inception, The Kids Are All Right, The King's Speech, The Social Network, Toy Story 3, True Grit.
Best Director
UP: David Fincher, The Social Network. Pairing hotheaded Fincher with lovable, loudmouthed front man Aaron Sorkin looks even smarter, as Sorkin eloquently deflects misogyny charges, Fincher stays quietly above the fray, and nobody gets smacked.
DOWN: David O. Russell, The Fighter. He signed up this week to direct a video-game adaptation, making even Darren Aronofsky's possible Wolverine sequel seem prestigious by comparison.
CURRENT PREDIX: Darren Aronofsky, Black Swan; Danny Boyle, 127 Hours; David Fincher, The Social Network; Tom Hooper, The King's Speech; Christopher Nolan, Inception.
Best Actor
UP: Colin Firth, The King's Speech. Tom O'Neil has him "far ahead" in his latest assessment of the race.
DOWN: Matt Damon, Hereafter. Says The New Yorker's David Denby: "It's the first boring performance of his career."
CURRENT PREDIX: Jeff Bridges, True Grit; Jesse Eisenberg, The Social Network; Colin Firth, The King's Speech; James Franco, 127 Hours; Mark Wahlberg, The Fighter.
Best Actress
UP: Jennifer Lawrence, Winter's Bone. It's a crowded race full of big names. Will the Academy still remember her even though her movie came out in June? Scott Feinberg makes the case.
DOWN: Diane Lane, Secretariat. Her movie's no Blind Side at the box office, which it kinda needed to be.
CURRENT PREDIX: Annette Bening, The Kids Are All Right; Anne Hathaway, Love and Other Drugs; Nicole Kidman, Rabbit Hole; Lesley Manville, Another Year; Natalie Portman, Black Swan.
Best Supporting Actor
UP: Matt Damon, True Grit. Is he any good here? Who knows! But with Hereafter's middling reviews, voters won't be confused about which of his performances to support this year.
DOWN: Justin Timberlake, The Social Network. Everybody was kidding about this, right? Just checking.
CURRENT PREDIX: Christian Bale, The Fighter; Andrew Garfield, The Social Network; Armie Hammer, The Social Network; Sam Rockwell, Conviction; Mark Ruffalo, The Kids Are All Right; Geoffrey Rush, The King's Speech.
Best Supporting Actress
UP: Rosamund Pike, Barney's Version. Says the almighty Jeff Wells: "She's so true-blue in the film, so regal and refined and dependably honest, that you almost don't believe her ... and yet you do. [She makes her character] into something a bit more, I'm guessing, than what was probably on the page."
DOWN: Melissa Leo, The Fighter. Presumably she'll rise again once people have actually, you know, seen her movie. But with the contender shortage easing, she's not an automatic nominee if her role's no good.
CURRENT PREDIX: Helena Bonham-Carter, The King's Speech; Melissa Leo, The Fighter; Miranda Richardson, Made in Dagenham; Sissy Spacek, Get Low; Hailee Steinfeld, True Grit.