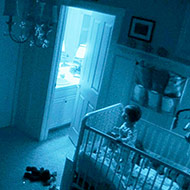 The Weekend's Winners: Paramount Pictures has the distinct pleasure of replacing last weekend's record-breaking No. 1 film, Jackass 3D, with another one of its low-cost, high-yield films: The prequel to Paranormal Activity (this weekend's estimated haul: almost $42 million). Also doing surprisingly well in its second weekend, the platform release of Clint Eastwood's arty Hereafter, with $12 million.

The Weekend's Loser: At the risk of earning a place on Bernie Focker's wall of "Participant" trophies and ribbons, everyone's a winner! (No, really: With so few films in theatrical release, distribution chiefs say there's surprisingly little cannibalization going on at the box office.)
How It All Went Down: The success of Paranormal Activity 2 actually owes its success to three sources: Last weekend's box office winner; the milquetoast Cinemark Theaters chain; and good, old-fashioned inter-studio jealousy and hissy fits. As such, we'll go in reverse chronological order:

First, the '2' in the title is a misnomer, since its really a prequel, not a sequel (thereby making Paranormal Activity 2…an ur-iginal? A proto-quel? We'll leave that to the linguists.) Whatever you call it, attaching the final Paranormal theatrical trailer to Jackass 3D on the weekend of it's $50 million opening? That didn't hurt.

Second, in late June, the nation's third largest exhibition chain, Cinemark Theaters, caused a department-wide orgasm among Paramount's marketing offices when it announced it was pulling the trailer for Paranormal Activity 2 from several Cinemark theaters in Texas after numerous complaints that teens viewing it at midnight screenings of Twilight: Eclipse had been left catatonic with fright: That's just great PR for a movie that aspires to lure those craving for a scare.

And finally, never count out good ol' inter-studio tantrums to produce an unintentionally great movie: Paramount's first choice to direct the Paranormal prequel wasn't its ultimate director, Tod Williams (who until this past weekend was best known for directing Focus Features' The Door in the Floor, an economical adaptation of John Irving's sprawling novel A Widow for One Year) but, rather, Kevin Greutert — the editor of Lionsgate Films' first five Saw movies and the director of the sixth.

Perhaps fearful that allowing Greutert to direct a Paranormal sequel at Paramount would hasten the demise of its own "torture porn" oeuvre, Lionsgate quickly exercised a contractual option on Greutert and — in a diabolical trap that could serve as the basis for an entirely new series of Saw movies! — forced him to instead direct Saw 3D, which debuts next weekend.

Your Top Ten (all grosses estimated):
1. Paranormal Activity 2 (Paramount): $41.5 million.
2. Jackass 3D (Paramount): $21.6 million.
3. Red (Summit): $15 million.
4. Hereafter (Warner Bros.): $12 million.
5. The Social Network (Sony): $7.3 million.
6. Secretariat (Disney): $6.9 million
7. Life As We Know It (Warner Bros.): $6.15 million.
8. Legend of the Guardians: The Owls of Ga'Hoole (Warner Bros.): $3.2
9. The Town (Warner Bros.): $2.7 million.
10. Easy A (Sony/Screen Gems): $1.75 million.