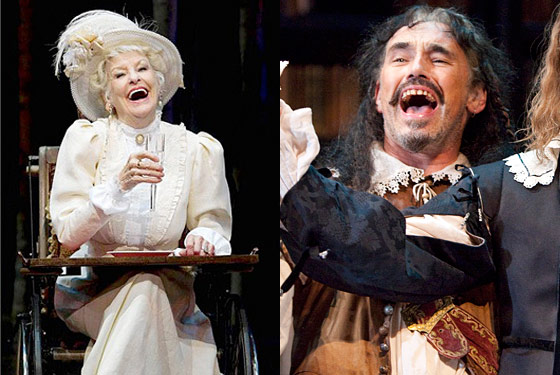 Last night, I was fortunate enough to get a closer look at Mark Rylance's La Bête denture, a fearsome appliance in or out of its natural habitat. Seeing those choppers — which were just as artfully rotted, if not quite as glittery, as their Depp-ian forebears — suddenly made me realize just how many artificial dentata are floating around the New York theater scene these days. Oh sure, Elaine Stritch has her business and casual false teeth, the former making possible that famous Minnie Pearl grin she flashes after the picnic scene in A Little Night Music; the latter just for knocking around Gotham and being Elaine Stritch.
Of course, in Stritch's case, the effect is intended to be invisible. Rylance's beastly fangs draw a bit more attention to themselves (and make him look bizarrely like James Franco). But by far the most demonic and stage-center denture in New York right now must be "The Monster," the massive prosthetic dental plate worn by a dying Sigmund Freud (Martin Rayner) in Freud's Last Session. Mark St. Germain' s one-act is a play-of-ideas diorama, with a Copenhagen-lite-lite-lite setup: What if Freud—cancer-ridden, exiled, weeks away from ending his own life—met up with a young Oxford don named C.S. Lewis… and they debated the existence of God? Wouldn't that be nicer than listening to Christopher Hitchens and Rick Warren scream at each other on cable? Yes, it would, audiences seem to agree. (It's been extended several times since its summer opening, and recently topped 100 performances — no small achievement for a small show mounted in an Upper West Side YMCA.) And if the arguments on display aren't the most sophisticated — and perhaps reflect the tit-for-tat ripostes of talking-head half-logic more than the playwright intended — well, who really cares? It's a pleasant quasi-intellectual digestif.
Except for that denture, the play's only real theatrical gambit — and the stage effect that makes this show perhaps not the best choice for viewing on a full stomach. Ravaged by oral cancer and dozens of extreme operations to combat it, Freud was eventually forced to wear an elaborate, ill-fitting plate that separated his nasal cavity (exposed by the near total removal of his soft palate) from his mouth. Without it, he couldn't speak. With it, he was in constant agony. He called it "The Monster," and Rayner does a rather remarkable job selling the horror of it. (He's not actually wearing a hellish dental plate, but producing it by sleight of hand and tactical upstage blocking.) As a veteran of some extensive dental work myself, I can vouch for the verisimilitude of his discomfort.
I can only assume that this profusion of fake teeth in theater has something to do with the current, catastrophic lack of bad vampire musicals in this city. Some Law of Conservation of Dentata Falsa must be in effect. So until the inevitable Twilight musical broods its way to Broadway (or, even better, when a passel of Fringers finally get around to making Teeth: The Toothsical ), prepare to see a lot of pearly (and not-so-pearly) whites.