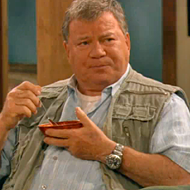 Thursday night is apparently turning into must-flee TV for a number of viewers: Last night's Nielsen numbers are in, and they show a slew of series — new and old — suffering major ratings hemorrhages. While CBS remains No. 1 on the night, it can't be happy with the $#*!-ty performance of $#*! My Dad Says. The 8:30 p.m. series dropped another 15 percent from last week with viewers under 50, held on to just 70 percent of its Big Bang Theory lead-in, and, while it ranked first in its time slot with 9.8 million viewers, it just barely beat the second half-hour of Fox's Bones ($#*! had a much bigger lead among the broader demographic of viewers 25 to 54). All of this is hurting CSI, which saw a 13 percent decline in the under-50 demo and dropped to its lowest numbers ever. CBS was hardly alone in feeling the pain last night, however.
NBC, which long ago yielded its Thursday dominance to ABC and CBS, saw ratings decline for all four of its comedies. It brings us no pleasure to say Community could muster just a 1.7 in the adults 18 to 49 demo (losing to the CW in women under 50). Or that 30 Rock (with a 2.1) was off nearly 20 percent from last week, and The Office (3.4) had its worst-rated fall episode ever. We won't try to pretend to be bummed, however, about Outsourced (2.5) dropping another 11 percent and holding on to just 75 percent of its Office lead-in.
As for ABC and Fox, they did better than the other networks, but neither has reason to be overjoyed. Subbing a repeat of Grey's Anatomy in at 8 p.m. for the canceled My Generation didn't make a difference in the ratings, but Grey's and Private Practice were either flat or up a tick versus last week. And Fox's older-skewing dramas, Bones and Fringe, actually managed to trend up a bit, while the CW's The Vampire Diaries and Nikita were also up (the latter is in line to get a full-season order any minute now.)
TBS's coverage of the baseball playoffs probably accounts for some of Thursday night's Nielsen bloodletting: CBS in particular tends to get hit hardest by baseball competition this time of year. The growing impact of DVRs can't be ignored, either. Nearly 40 percent of U.S. homes now use the time-shifting machines, and as the season wears on, some viewers may very well be using prime time to catch up on previously recorded fare.