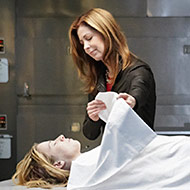 ABC has finally figured out a launch plan for its new Dana Delany medical-examiner forensic drama, Body of Proof. Back in May, the network said it would debut the Quincy-like show in the fall as part of a revamped Friday-night lineup, but when ABC shook up its exec ranks, new chief Paul Lee made the decision to hold off premiering Proof — not because he thought the show was a turkey, but because he had a feeling some other new shows (My Generation, The Whole Truth) might underwhelm. He and other ABC insiders also thought Proof might do well on a more high-profile night of the week (Fridays tend to be where networks other than CBS bury shows). And that's just what's happening: ABC today revealed that it will show off Delany's Body Tuesday nights at 10 p.m., starting March 29.
That's the time slot currently occupied by Detroit 1-8-7, which will have wrapped its first-season eighteen-episode run by then. Waiting so long means ABC will be able to heavily hype Body during the Oscars and the opening weeks of the next installment of Dancing Wth the Stars. But, in a twist on how things are normally done in TV, the Delany delay means Body will actually premiere overseas before it airs here: ABC's international-distribution unit today said the show will begin running in Italy, Spain, Hungary, and other countries starting in January. So if you have friends in Milan or Barcelona, make sure to tell them to issue a spoiler alert before they go tweeting any big Body plot twists.
Meanwhile, FX has also set a couple of premiere dates. Damn funny spy toon Archer returns for season two Thursday, January 27 at 10 p.m. (just in time to be pitted against 30 Rock in its new slot). And Lights Out — with the network's latest antihero, an ex-boxing champ who goes broke and needs to take unseemly gigs to support his family — starts airing a few weeks earlier, Tuesdays at ten beginning January 11.