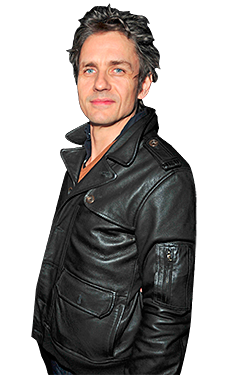 Since the breakup of beloved dream-rock quartet Luna half a decade ago, Dean Wareham has kept busy scoring films (The Squid and the Whale), writing an excellent and heartbreaking memoir (Black Postcards), and recording and touring with ex-Luna bassist and girlfriend Britta Philips as Dean and Britta (their soundtrack to accompany vintage Warhol Factory screen tests, Thirteen Most Beautiful, was recently released via their own label, Double Feature). Dean and Britta are currently on tour playing favorites from his legendary first band, Galaxie 500, for the first time in many years, so we sat down with Wareham to ask him about those early breakthrough days of indie rock, and explain what led him back to the nineties.
Why are you revisiting the Galaxie 500 stuff now? Did you miss the songs?
If you haven't played the songs for ten or fifteen years it's very tingly, it's exciting. I enjoy playing them. This promoter in Spain — he asked us to do the show in Spain in January and it was really fun and then the records were all coming out. It just seemed like a good time. I thought I should do more of these.
Playing these with your current band, people would see your whole evolution. You've had a lot of different projects.
Two bands and the duo, yeah. I've been doing it longer than I would have guessed. I didn't think when I started Galaxie 500 I'd still be making music in twenty years. Longer than I'd dared to hope, I suppose. Being in an indie band back then, you weren't allowed to have dreams of being huge. None of the major labels have touched anything that's remotely left of field since the punk movement. It was all Huey Lewis. That changed with Sonic Youth and then Nirvana signing to Geffen. Alternative became this huge business, and now Arcade Fire or Vampire Weekend can be No. 1.
Yes, but what a No. 1 record is these days is a whole different story.
That's true. You can be No. 1 with like 68,000 records sold. I feel bad for young bands, you can't sell records. You can't sell CDs. It must be frustrating. We could sell CDs. We could get advances. We were lucky with Luna, after the second album there was a whole change over at Elektra and we got to our fourth album without a hit. They were breaking even on us. It wasn't like a sinkhole.
When Nirvana happened did you think, "Me and Dinosaur Jr. we're all going to be giant rock stars now?"
I think it made it worse. It made it such big business. Made it harder to get played on most alternative stations. There was a lot of money to be made and they got a lot more focused and they started narrowing down their playlist to like twenty songs.
Has your approach to writing changed from group to group?
With Luna twice a week we would come together and practice and play and now I'm not doing that. It can be difficult. It wasn't always fun. It forces you to create. Now, the last six months I just haven't set enough time aside to work on songs. So busy touring and running a little label [Double Feature], which is kind of insane. We've put out like three or four things. At the very worst time, too.
What have you released so far?
We put out an Australian band called the Sand Pebbles. This friend of ours from upstate called Cheval Sombre and this other guy My Robot Friend. He's kind of a performance artist; he did a cover of [Luna's] "Twenty Three Minutes in Brussels." That's how I met him.
Do you like doing it?
No. If that's all I were doing it would be kind of fun, but it's paperwork and filling out forms and taking me away from what I should be doing. But creative work is more difficult, so I'm happy procrastinating — like when I had to write the book [his 2008 memoir Black Postcards: A Rock and Roll Romance]. The hardest thing to do is sit down and open the file. That can take all day. 'Cause you would rather sweep the floor or do anything. Once you do it, though …
Were people you knew nervous when they found out you were writing a memoir? It's not like you're Tommy Lee or anything, but was there sudden sucking up on the part of old friends?
Some friends really wanted me to send it to them first. I said, "No I'm not doing that, that's crazy. If you were writing a book I would never dare ask that." I was not accommodating at all. My ex-bandmates in Galaxie 500 were like, "You should run this by us first" and I was like, "Why? You don't run stuff by me!" The book leads off with a quote they posted on their website and they were like, "You need permission to quote from our songs." I wrote all the lyrics. Also, if you and I wrote a song together, either of us could quote it. We couldn't sell it, but we could quote it. In the end, I didn't hear anything from them about the book. But I think there were a couple of people that were really angry after it came out.
What do you think of this new fondness for nineties bands, like with Pavement reuniting this year?
There's a bit much of it. A lot of the reunions. Like Smashing Pumpkins — is that actually the Smashing Pumpkins? I shouldn't talk, but I'm not calling [my band] Galaxie 500.
I think it's better in general if you're saner than Billy Corgan.
I think that's true. We shouldn't look for lessons on what to do in life from him. I mean, the bands are doing it because there's money to be made. That's a good reason for the Pixies to overcome their hatred for each other. Why do the Beach Boys keep touring? Does it stimulate the back catalogue? I don't know. I haven't looked up Galaxie 500's sales.
Well now, one Google search will bring a kid to all of your old albums.
Which they will then go steal somewhere.