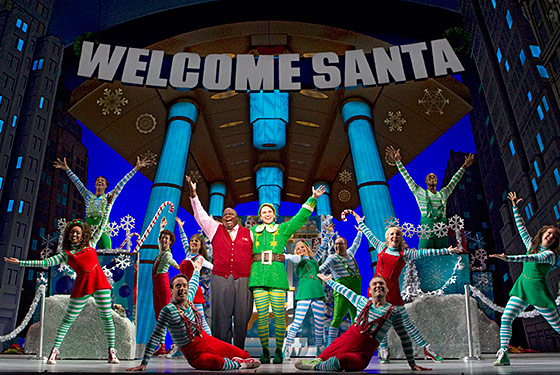 Christmas comes but once a year, a fact in which some of us Scrooges take comfort when seasonal "events" like Elf arrive. Based on the warmhearted Will Ferrell doofus-comedy of the same name, this tinseled Potemkin musical is more or less exactly what you think it will be: an instantly deciduous Wal-Mart poinsettia of a show, bouncing along on pleasantly forgettable Broadway-matic tunes by Matthew Sklar (The Wedding Singer) and surprisingly robust orchestrations by the great Doug Besterman. Thanks to the splendid energies of its ensemble, Elf manages to jingle a bit more than it jangles, which qualifies it as a success by the relaxed standards of Yuletide entertainments. But judged as a full-bore musical (which it wants to be, given its choice of venue, the pedigree of its creative team, and its inexplicable two-hour-plus running time), Elf comes up (ahem) short. This is a show with the half-life of a damp Altoid, and someone should've told it so, in the crib.

The book, by heavy hitters Thomas Meehan (The Producers) and Bob Martin (The Drowsy Chaperone), is lankly witty enough, toning down some of the frattier aspects of David Berenbaum's screenplay (say good-bye to the film's little-person-wrestling set piece) but keeping the big winks: Buddy (Sebastian Arcelus) is still a man-child orphan raised at the North Pole by Santa (a gently used George Wendt) and his elves. Belatedly discovering his human heritage, Buddy journeys to New York to find his biological father (Mark Jacoby, in bangin' James Caan drag) and spread Christmas cheer to a cynical city. Along the way, Buddy hits all the Gotham Yuletide traditions: He finds love in a Macy's with Jovie (Amy Spanger), a non-jovial department-store elf; he inspires a child, his half-brother Michael (Matthew Gumley); he attacks a fake Santa. ("You sit on a throne of lies!")
But the laughs here don't align as they did onscreen; there's no fizz, and not even a trace of bitters, in all that syrup. The movie's core conceit depended in large part on the physical grotesquerie of Ferrell. He wasn't just a grown-up elf: His doughy, bloated unwieldiness clashed perfectly with his twee vocation, and the harder he committed to twinkly humbug and holiday optimism, the funnier his plight became. Arcelus, on the other hand, is naturally elfin: delicately built, storybook-adorable, huggably unhip. He can be plenty charming (or plenty grating, depending on your threshold for pointy-toed pep and innocent double entendres), but his presence in the story isn't inherently comedic. He's just a happy elf in New York, surrounded by glum midtown office drones.
He's also surrounded by one of the stingiest sets ever to grace a Broadway stage. David Rockwell's church-basement, construction-paper production design doesn't give adults or kids much to marvel at. (And Zachary Borovay's video projections aim for Rankin-Bass nostalgia but end up looking like washed-out South Park outtakes under Natasha Katz's queasy lights.) With extensive product plugs for Apple and Macy's (among others), you'd think the producers could at least afford to fake it a little harder. One only hopes most of the lucre has been spent on the joyous cast, whose up-tempo brio and lickety-split hoofery (by director choreographer Casey Nicholaw) make up for a great many shortcomings. In particular, Broadway foot soldiers Valerie Wright (a high-kicking redhead with a Sandy Duncan smile) and Michael Mandell (for whom irony and jollity are utterly compatible) are both having a great time in featured chorus roles. The more pied people Nicholaw packs onstage, the closer Elf comes to resembling a full-grown extravaganza. It isn't really, but then, some presents are designed to look better under the tree.