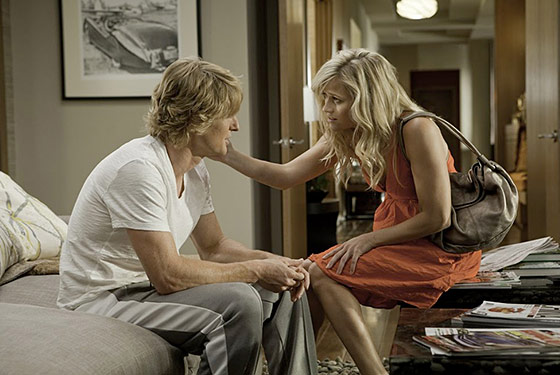 The critics have not been kind to How Do You Know, the first James L. Brooks film since the similarly misbegotten Spanglish. "This wrong-headed dramedy peddles forced warm-fuzziness and insincere sentiment on the backs of an all-star cast," wrote Variety's Peter Debruge, while Indiewire's Anne Thompson noted, "This is a career disaster for Reese Witherspoon, an Oscar-winning actress who has stumbled since Walk the Line and needs a flop like a hole in the head." Okay, sure, but this is a romantic comedy, right? We expect a certain degree of not-so-goodness already — the question is, can we work with this? Luckily, Vulture is happy to oblige you with a breakdown of all the rom-com boxes How Do You Know manages to check off, so that if you're wondering what the movie has to offer, you can at least answer its titular question.
Rom-Com Subgenre
A Love Triangle (see: The Philadelphia Story) about a woman who must Choose Between the Dim-Bulb Blond and Neurotic Jewish Man (see: Broadcast News)
Credentials
Writer-director James L. Brooks (Terms of Endearment, Broadcast News, and As Good As It Gets, but also Spanglish); early-aughts rom-com queen Reese Witherspoon (Legally Blonde, Sweet Home Alabama); Owen Wilson (Wedding Crashers, Marley & Me); Paul Rudd (yes, there's Object of My Affection and all the Apatow films, but Clueless is obviously the be-all, end-all); and Jack Nicholson (Something's Gotta Give, As Good As It Gets).
Barrier … to Love
She's monogamous … He has an entire closet of morning-after outfits for his one-night stands!
She wants to move in … He still regards it as his apartment!
She wants to discuss their relationship … He's a cad!
She might be better suited for the other guy … But he's a neurotic mess under government investigation!
Welcome Clichés
Horribly awkward first date leads to love
Spunky, underestimated young woman enters emotional tailspin after being fired
Himbo basically has a heart of gold
Unwelcome Clichés
White character sings soul song into appliance (in this case, a lamp)
Agog man sputtering, "Are you … breaking up with me?"
Postcoital scene after feckless, much-praised lovemaking involves bedsheet at neck level for woman, waist level for man
Woman charmed by borderline stalker behavior from total weirdo
Constant Proclamations of Main Characters' Greatness
Delivered by Wilson, who constantly tells Witherspoon how good she is at sex
Delivered by Witherspoon's softball teammates, who tell a mean manager that she's too amazing to be cut from the team
Delivered by Wilson to Witherspoon, when discussing how she may be his dream girl
Delivered by Witherspoon's softball teammates to Witherspoon, when they descend on her apartment to boost her spirits with constant blandishments
Delivered by office assistant Kathryn Hahn to Rudd, who tells Rudd in every scene that he is too good of a man to suffer unwarranted government scrutiny
Delivered by Rudd to Nicholson, when discussing what an amazing woman Witherspoon is
Romantic Crescendo Locations
A fancy restaurant
An elevator
A crappy apartment, as a love interest paces on the street below
On the phone
Romance/Comedy Ratio
30/70
Tears Jerked
None
Place on Rom-Com Quality Continuum
How Do You Know is more of a romantic dramedy than a comedy, though that's not to say that it's particularly heavy, either; instead, it's a miscalculated mess where the romantic triangle is low-stakes (Witherspoon never seems into either of her suitors), the comedy is fatally paced, and one-third of the movie is devoted to Rudd's indictment for a nebulous crime that we're told very little about. (As Rudd's father, the bellowing, blustery Jack Nicholson feels like he's starring in a different movie that's shooting on the lot across the street, and compensates by overacting considerably to close the distance.) It's not a notorious misfire like the kind Brooks suffered with I'll Do Anything or Spanglish, but it's got an insane cost-to-dividend problem, and any rom-com fan would be far better served by Netflixing some of his older movies instead.