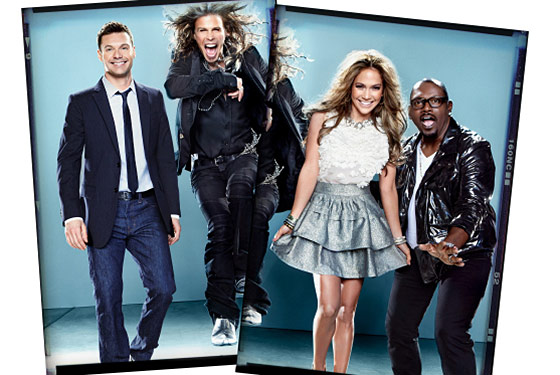 People have been predicting the demise of American Idol since Jennifer Hudson was prematurely given the boot in season three. And now, seven years later, it's time for the media to do it again. However, this year they (by which we mean "we") have more of an argument: Ratings were already dropping, Simon's gone, last year's competitors have already been forgotten, and Glee seems to have taken over as the official arbiter of mainstream musical tastes in America. All of this adds up to a lot of "nobody cares anymore" talk (and several dozen Idol-related tweets a minute) … which paradoxically indicates that people still do care, doesn't it? And while it was easy to predict a downhill slide when the show remained largely stagnant, it's harder to do so when the show is undergoing such an overhaul: rule changes, new judges, other networks' different counterprogramming strategies. So as tonight's premiere nears, here are five key questions that need to be answered before we know whether it's finally over for Idol — or if the show is about to be newly reenergized, supplying us with another decade of predicting its downfall.
1. Are the other networks still afraid of the Idol machine?
Until just a few years ago, Idol was the show that crushed virtually everything in its path, from Whoopi to Lost. But in recent years, as ratings for Idol have gradually decreased and networks have gotten better at counterprogramming, rivals have learned how to manage their pain. "Are we nervous about Idol? Yes," one network insider says. "Are we less nervous than three years ago? Yes." CBS was the first net to figure out how to bob and weave versus the mighty Idol: It went older and broader with its NCIS franchise and comedies such as The New Adventures of Old Christine. Last season, ABC had success (at least with overall viewers) pitting its Dancing With the Stars results show against the Idol performance episode.
This season, after Fox announced that Idol was shifting to a Wednesday-Thursday pattern, rival nets reacted with an, "Okay, whatevs." CBS kept the recently relocated Survivor on Wednesdays; ABC didn't rejigger its Wednesday comedies (even though The Middle took a bit of a hit when it faced the Idol results hour last year). "It used to be that shows would go from like a 3 [demo rating] to a 1.5 when Idol came on. That doesn't happen anymore," our rival-network wag says. A Simon-less Idol might be even less potentially worrisome. And yet, though they may be less nervous than they used to be, other networks are well aware that the Fox franchise still remains very potent, even in a somewhat diminished form. That's probably one reason why NBC, for example, just shifted promising new reality series America's Next Great Restaurant to Sundays instead of Wednesdays, where it had been set to battle Idol. "I'm still scared of Idol," the rival programmer concedes. "It's still the Death Star."
2. How much will ratings be down this year?
Perhaps it's just advance spin, but Fox execs have been blunt in making advance predictions that Idol will once again lose viewers. Speculating about just how much it will be down is one of the TV industry's favorite (and oft-futile) pastimes. So: Shall we play a game?
The first thing to remember is: Don't pay too much attention to how the show does in its first week. As one ratings prognosticator told us, "I think this week it will do the same or better than it did premiere week last year." The reason: rubbernecking. "People are curious about the new judges," the source wagers. These opening audition shows could even see the return of ex-Idol junkies curious to see how things work sans Simon.
And if it does poorly? Keep it in perspective before blaming it all on the new judges and format. Ratings reports will likely compare this season's premiere with last year's kickoff, which lured just a tad under 30 million viewers and an 11.8 rating with the 18 to 49 demo, an impressive number on par with 2009's launch. However, the audience dropped in the second half of the season, when Simon's boredom (and the dullness of last year's contestants) chased audiences away: By the time Lee DeWhatshisname beat Crystal Whowazthat in May, viewership was down to 24 million and an 8.2 in the younger demo (a record low for a non-summer Idol finale). In other words, a lower premiere may be more a result of last year's attrition than an immediate rejection of the new judges.
In any event, we really won't know how Idol is doing until at least about a month into the season. By that point, viewers will have decided whether they like the new judges or whether Simon's absence is too much to bear. Producers seem to be aware that they have to depend more on the artists than the judges to keep people interested this time around; they trimmed the semifinal round, expanded Hollywood Week to two weeks, and added a road trip to Las Vegas for added variety (and a further winnowing down of the talent pool). So the fate of this show will likely depend on them discovering talent that can captivate a nation, but just hadn't gotten around to auditioning in the previous nine years.
3. Who's the new Paula?
Idol insiders have already anointed Tyler as the show's new rambling diva, but we suspect that may only be half-right. Some bloggers picked up on Tyler's penchant for unpredictability almost as soon as he joined the show, citing as his wackiness bona fides his onstage antics and behind-the-scenes clashes with others in Aerosmith. And in recent weeks, Tyler has definitely seemed to be channeling his inner Paula; witness this response to a question at a recent Idol press conference about why he decided to join the show: "I just wanted to test my limitations, I've always had a saying there's nothing not worth overdoing, and I haven't done television like this. I'm very vulnerable, too. You spot it, you get it. I just wanted to see if I could be real and if I could pick among all these kids." You want incomprehensible feedback? Tyler's the man!
But if the Aerosmith legend is clearly sipping from the same crazy cup as Paula, it's not clear that he'll also subscribe to Abdul's Love 'Em All, Let Simon Sort 'Em Out Later philosophy of offering only super-encouraging feedback (although we won't be at all surprised if Tyler is subject to the same rumors of fraternizing with contestants). That's where we think J.Lo will come in: She seems destined to offer the motherly pep talks Paula was famous for, finding something positive to say when a contestant derails. Which is fine, except that there appears to be nobody on Idol 3.0 ready to render even the slightest bit of Simon-like truth-telling. We're fine with producers not trying to replace Simon with another mean-spirited judge, but things could get boring fast if nobody steps up with some blunt critiques. (Randy is promising the "dawg" will have more "hair," but we're not buying it.) The best chance for any honest appraisals could come from Jimmy Iovine, the Interscope Records chairman who's been brought in to help shape the wannabe Idols. He's known for being blunt, but what's unclear is just how much we'll see of him: His segments with contestants are expected to be pretaped, which means they could easily be cut if producers decide they need to make more time for an AT&T plug.
4. How will Nigel Lythgoe's return to Idol change things?
One former Fox insider tells Vulture the return of the banished producer (and So You Think You Can Dance judge) should not be discounted: "It's very significant," the source says. Lythgoe was at the helm of Idol during its glory years and seemed to get pushed aside, at least in part, by Simon Cowell's desire for greater control of the show. Now Lythgoe (whose ego may be only slightly smaller than Cowell's) is no doubt relishing the chance to prove that his absence weakened Idol. While he can't control how well the judges do or whether a breakout talent emerges, he can make a difference in other ways: choosing the right theme weeks, tightly editing the pretaped packages, fighting to limit the obnoxiousness of product placements.
5. Will lowering the age limit to 15 make any difference?
Call it the Bieber Rule: By allowing folks too young for 16 and Pregnant on the show, Idol expands its talent pool to include a few more potential prodigies. And given how well JB and Greyson Chance have done in the last year, it's probably a wise move (particularly since Idol's biggest audience erosion has been among its youngest viewers). That said, there's a good possibility of a backlash if Lythgoe shows the judges tearing into a tot (unlikely) or if a little one makes it through to the live rounds, only to suffer a real-time breakdown in front of all of America (a real danger). But since even a backlash can help bring buzz to a show, the new age rule will probably end up a net plus.