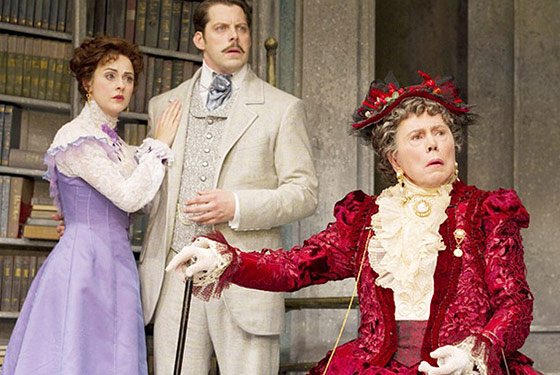 "She is a monster, without being a myth," seethes Jack Worthing (David Furr) about his social tormentor, Lady Bracknell (RADA-trained Tony magnet Brian Bedford). "Which is rather unfair." Well, maybe for him. For the rest of us, Bedford's stately, sourpussed take on Oscar Wilde's towering icon of convention is a glorious gift. In apparent atonement for its bumpy Mrs. Warren's Profession last fall, the Roundabout has cleansed the American Airlines hangar with this smooth-as-glass version of The Importance of Being Earnest, imported from Canada's Stratford Shakespeare Festival.
Wilde's masterpiece is so legendarily evergreen, it practically performs itself. Just to refresh, the plot revolves around the aforementioned Jack, who was found in a handbag at Victory Station (the Brighton line) by a wealthy man who raises the baby as his own. The now wealthy young man invents an errant brother named Ernest so that he can escape his country estate, and his young ward, Cecily, to woo lofty Gwendolen (an electrically repressed Sara Topham), the daughter of Lady Bracknell. His louche, dandy pal Algernon (Santino Fontana), who is the cousin of Gwendolyn, then poses as "Earnest" to woo Cecily back at the estate. All sorts of prim and proper wackiness ensues: Lies are made true, plots are unraveled, and glittering absurdity triumphs over dowdy truth. It's all so perfectly ingrained in our shared comedy unconscious that every laugh an actor doesn't get could be ruled against him.
Luckily, that's not an issue here. Each jewel of wit is polished apple-bright, and every performer is playing in the same key. Forget literary interpretation, forget clenched internal acting: There's great damned musicianship here, and the joy of sheer comic virtuosity. For this we must thank, again, Brian Bedford, who pulls off actor-director double duty with uncommon grace. Having assembled a uniformly brilliant cast (including the great Dana Ivey as dotty governess Miss Prism, and the terrific, incipiently potbellied Fontana, who seems perpetually, girlishly overjoyed to be six months pregnant with himself), he's free to make his Lady Bracknell the prime showpiece, not the show-saver she can become if lesser stars fill out her constellation. When Bedford's Bracknell enters — a one-woman armada of pomp with a face like a guillotine — the world stops briefly, but the show does not. (When it comes to imbuing a single word with devastating hilarity, the actor has no equal.) To know something like scripture, as we do Earnest, and to have it feel fresh off the press; to anticipate every jape, and yet react with delightful surprise? To paraphrase Gwendolen: The suspense is terrible, not to mention funny as hell, and it lasts.