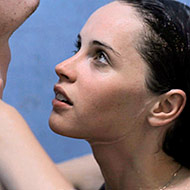 What do you do if you've spent the last ten days intensely immersed in low-budget independent film? Dance like lunatics to Katy Perry! Last night's closing awards ceremony for the Sundance Film Festival felt every bit the final hurrah of the summer camp that our experience in Park City had become. Exhausted filmmakers, agents, journalists, and Sundance employees ripped drink tickets off their wrist bands and formed a hilariously long line in front of the one bartender who seemed to be offering more than the dreaded, minuscule Utah pour. But before the party, awards were handed out, of course, at the 2011 Sundance Film Festival Awards Ceremony, hosted by Tim Blake Nelson. (For a complete list of winners, see here.) Herewith, the highlights from the ceremony:
• The U.S. Dramatic Competition Grand Jury Prize, somewhat surprisingly, went to Like Crazy. Announcing the prize, juror Jason Reitman said that once the jury had seen all the other movies, Crazy was the one that stuck with them and broke their hearts. "We loved this movie … like crazy!" he yelled, as ecstatic director Drake Doremus ran forward to pick up his prize, donning a bright pink J. Press shirt. Vulture Kyle found Like Crazy's sweet, sad, almost-entirely-improvised tale of long-distance romance starring Anton Yelchin and Felicity Jones (who also won a special jury prize for acting) to be a sort of Blue Valentine–lite, but a survey among the esteemed Members of Our Condo said the film had something "very moving" to say about first love, and that sinking feeling of wanting a relationship to work out while knowing that it never can. In any case, the film got picked up by Paramount, so the rest of the country can make up its own mind about the movie when it comes out.
• We were pleased to see the U.S. Documentary Competition Grand Jury Prize go to the deserving How to Die in Oregon, about Oregon legalizing physician-assisted suicide for the terminally ill. The film had left most audience members either bawling or too stunned to clap. (Plus, as if we didn't already think he was awesome, How to Die's director, Peter D. Richardson and his merry band of Oregonians squired us around in his car to and from the WME party in Deer Valley, for which we will be forever grateful. Peter, we dedicate this post to you.)
• The Audience Award for U.S. Dramatic Competition went to Circumstance, a lovely movie about lesbians in Iran that has been picked up by Participant.
• The Audience Award for U.S. Documentary Competition went to Buck, about actual horse whisperer Buck Brannaman, who was also celebrating his birthday that night. In his speech, Brannaman, wearing his ever-present white rancher's hat, dedicated the award to "everyone who loves what they do. I take my hat off to you." (He did not take off his hat.) He failed to bring any horses to the party, but did tell us he had a few whom he thought could handle the scene.
• Former New York Times photographer Danfung Dennis won both the World Cinema Documentary Grand Jury Award and World Cinema Cinematography Award for his remarkable Hell and Back Again. The film follows a Marine from the start of his tour in Afghanistan through his disturbing recovery from a bad injury, and then back home. Dennis risked his life to make the movie and invented a special camera setup that will likely make a lasting impact on how documentaries look moving forward.
• Beautiful little sci-fi drama Another Earth won both the Alfred P. Sloan Feature Film grant and the Special Jury prize for U.S. Dramatic Competition. (More important, star and writer Brit Marling and her co-writer and director Mike Cahill may have been the nicest, most adorable people we met at the festival. And there were a lot of adorable people!)
• Barry Levinson's 25-year-old son Sam won the Screenwriting Prize for U.S. Dramatic Competition for the messy but highly enjoyable dysfunctional family dark comedy Another Happy Day. In the night's most memorable speech, he told the audience, "I cry when I introduce the movie, so I don't fucking know what's going to happen now." He told us afterward: "I don't even know what I said up there. It was like a heroin blackout."
• Pariah, about a Brooklyn-based teenage lesbian coming out to her parents, won a prize for cinematography. Director Dee Rees called cinematographer Bradford Young on the phone from the stage. "Dude, you won!" she screamed, holding her cell phone up so Young could hear the cheers.
• The sweet Being Elmo: A Puppeteer's Journey won a Special Jury Prize for documentaries. It's the kind of movie that makes grown men have to excuse themselves to have a moment.
• But perhaps the biggest highlight of the festival is just how ripe it's been for acquisitions, with nearly 30 films getting picked up, the most at any Sundance ever. Just yesterday, Roadside Attractions bought Miranda July's The Future, narrated by a cat, and Oscilloscope grabbed Evan Glodell's wacky directorial debut Bellflower, about two friends in L.A. prepping for the apocalypse. Everyone will get a chance to see whether they agree with the jury very soon.