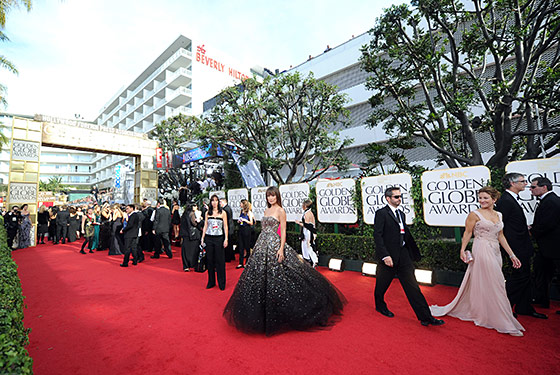 At long last, we've come back around again: It's the Golden Globes, Hollywood's most gin-soaked event – both on the night of and, we suspect, during the nomination process. How else to explain that Jennifer Love Hewitt and Dame Judi Dench are competing for the same award? But while we can't imagine Hewitt besting Dench inside the Beverly Hilton – US-UK relations would be tarnished irreparably, we fear – it's possible she will out-dress her. We're about to find out: Join us as we live-blog all the red carpet shenanigans, and take a tour through Vulture's hot-and-fresh red-carpet slideshow.
6:00 p.m.: Here we go! Ryan notes that it's 80 degrees out – it IS hot in Los Angeles today – in what is sure to be the first of about twenty-thousand mentions of the weather today. Ryan gets Olivia Wilde right off the bat, in a very sparkly and pretty brown Marchesa ballgown. Her hair kind of reminds us of that Seinfeld where Jerry and Kramer invest in low-flow showerheads and their hair gets plastered to their head, though. A little volume, girl. Great dress, however.
6:04 p.m. : Ryan cuts to Giuliana– with a snarky comment about how her interviewing platform is smaller than his is. Get a room, you two. Giuliana intros Kelly Osbourne and some dude who's also on Fashion Police with them, and Kelly promptly interrupts Giuliana to cut to the Glam Cam. That's how we know no other celebrities are there: endless yapping about the E! Glam Cam.

6:07 p.m.:But Ryan has Kaley Cuoco, wearing a light yellow/off-white gown. She waves a bejeweled left and hand claims she's engaged…to Chopard. Hey – you know what they say about diamonds being a girl's best friend. Her dress is appropriately somewhat bridal. Ryan, who must be reading our minds now (this is a concerning development), does ask her what color her dress is. "It's nude…slash pale-peach?" she answers. Answers! We love them!
6:12p.m.: Man, the live show repartee is nonexistent – they're fumbling and bumbling. They discuss how baby bumps are the accessory of the season. And then there are about ten long pauses where they just freeze smiles on their faces and say nothing. It's sort of hard to listen to Giuliana talk about dressing early-stage baby bumps (aka the "Pregnant or Donut Binge?" phase) vs later stage ones, because of the struggles she's had – kinda reminds us that she is human. Hey, Globes! Stop with making us feel! We don't come to you for sentiment!
6:19p.m.: And here we go with Jennifer Love Hewitt: It's silver-gray-blue and SUPER bridal. It's a Ramona Keveza, bejeweled waist, and sort of a petal-like blossoming at the strapless bodice. On the whole, much better than we had expected from her. Perhaps she decided that wearing something tight would be too on-the-nose when she's nominated a Globe for playing a massage-therapist-turned-prostitute.
6:21 p.m.: Jennifer Lawrence is in a ruffly crinkly dress that I THINK is a dark grey-blue? It has black straps. I need to see more of it to know whether I like it as much as Kelly does. Meanwhile, Giuliana has Chris Hemsworth, aka Thor, aka brother of Miley Cyrus's ex-boyfriend Liam. While they talk and we snore a little (he is pointing out salient details like that Australia is not as big as America), Katie Lee pops up in an orangey-yellow dress with a beaded bodice that is very Tropicana.
6:23p.m.: It doesn't SEEM like Julia Stiles is here with Michael C. Hall, her rumored new boyfriend (they co-star on Dexter). We only got a split-second glimpse of her black ruffled long dress – so far ruffles and their ilk are the details of the evening – but E! cuts away to throw to commercial with a shot of Mark Salling's tiny Mohawk. Well, all RIGHT. If you must.
6:26 p.m.: Ryan is wearing Burberry, and name-checks somebody before chatting to Mark Salling. They engage in a super-manly discussion about not getting too much makeup on their tuxes. Puck was, overall, a terribly monotone and bored-seeming interview. Boo, dude. Jim Parsons is a refreshing break – he's perky. Jenna Ushkowitz of Glee looks great in blue (ruffles again), and we see Olivia Wilde's shoes, which are either yellow or INCREDIBLY bright gold, and totally sparkly. Really hot. Jayma Mays of Glee has gone for a retro feel with her hair and a plunging v-neck gown that's clingy. Elisabeth Moss, shot from above, is in green, and we might be on board with it. More!
6:29 p.m.: Alec Baldwin! He and Jim Parsons do some cute repartee – well, mostly through Ryan, ribbing Alec about running for office. But the dude can't leave 30 Rock (he CAN'T). So can we split the difference and have Jack Donaghy run for office? Another look at Jennifer Lawrence reveals that there is a LOT going on there – a half-slit at the bottom, very Fancy Barmaid. Which is fine… if you are a Fancy Barmaid. Amber Riley from Glee has arrived in purple sequins (we think?) and a one-shoulder bodice; she looks delightful.
6:32 p.m.: Alec is yammering about hosting the Oscars. Then he snags the microphone from Ryan and asks, "What is your REAL name?" Ryan swears this is his real name. "You were born to do what you do," Alec says. "Either that, or run a hotel on the beach," Ryan quips. We secretly kind of like Ryan. We un-secretly like Scott Caan and his thinning man-bouffant, who is with Giuliana. As he yammers abuot Hawaii, we see Dianna Agron in pale pink, looking very slender and very much like a doll, which seems to be her aesthetic. Giuliana presents Scott Caan with a tux that's like an aloha shirt, and he does not play along and put it on, but he does let himself get lei'd.
6:34 p.m.: Ryan gets Elisabeth Moss, who might look great in an emerald green strapless Donna Karen frock. They chat about what she's doing during the off-season (a play in London with Keira Knightley). Elisabeth tags out and Dianna Agron tags in, wearing a pleated cream strapless dress. She looks very pretty but in a kind of bland, cream-colored way. While they chat, the cameras cut to Julianne Hough, who looks about thirty years older than she actually is in a super, super tight black dress with a huge jeweled collar.
6:37 p.m..: Helena Bonham Carter gets out of her car. Please look crazy. Please look crazy. (We can't see enough of her dress to tell how crazy, exactly, she is.) While Ryan chats up Ricky Gervaise, the camera cuts to Haliee Steinfeld, who is totally adorable and age-appropriate in a white, sleeveless (but not strapless) dress. Bless whoever remembered that she's only 14.
6:42 p.m. Natalie Portman is wearing a french twist and we have no idea what else, due to the crowd. Giuliana says, "from what we can see, she looks AMAZING." What we can see, by the way, is her neck and head. That part of her does look nice, but for all we know, she could be wearing a barrel. Hold your horses, E! talking heads.
6:44 p.m.Giuliana talks to Sarah Hyland, in a beige-y pink Max Azria dress that isn't hideous or anything, but is a bit dull perhaps. While she chats, we get a shot of Melissa Leo in a black (or navy) sequined dress. She looks surprisingly really good. Whoever's doing her hair and make-up lately is on top of their game - she's been looking about twenty years younger.
6:45 p.m. Piper "Coyote Ugly" Perabo is wearing black Oscar de la Renta and a sleek ponytail. She and Giuliana kiss each other's ass for what feels like an hour and a half. While they chat, E! cuts ti Kelly McDonald, whose dress can most charitably called dishwater-colored.
6:47 p.m. On the big platform, Ryan is talking to Julie Bowen, who assures us all that she looks like she's in great shape, but she actually just wears Spanx, like, all the time. Her dress is also a bit dishwater-y, and is covered with pieces of tulle. We suspect this is one of those dresses that is lovely in person and kind of meh on television. There is a cute moment, though, between Bowen and Jesse Tyler Ferguson (who is wearing an olive green bow tie).
6:48 p.m Giuliana is talking to Jesse TF, but the cameras are making sweet love to White Collar's Matt Bomer. Can you blame them? They then cheat on Matt with Jake Gyllenhaal, who arrives with long-time friend Jenny Lewis of Rilo Kiley.
6:50 p.m. HELENA BONHAM CARTER IS WEARING TWO DIFFERENT COLORED SHOES. On purpose. And her dress appears to be listing off one of her boobs. This woman is a national treasure.
6:51 p.m.Nicole Kidman has arrived. She looks like the polar opposite of HBC, in a very plain, cream-colored column dress. We also assume that both of her shoes are the right color.
6:54 p.m. Lea Michele is here in a peach/pink de la Renta, with – SURPRISE – ruffles. It reminds us vaguely of an elaborate bedsheet. Ryan split-screens her with the black dress she wore last year, and she giggles that she feels "happy and light" and basically comes off a bit like she might have just sniffed glue. (Note: We do not think she just sniffed glue.)
6:56 p.m. Portman's pink sheath is Grecian in its draping, with a large red flower between her boobs. In the end, it's a bit of a wah-waaah moment. Viktor & Rolf designed it, and the more we look at it, the less we are endeared. Fortunately, we're spared further furrows by the arrival of Jason Segel and Jimmy Fallon. If they started a label called Jason & Jimmy we would happily wear it even if it was just hats made of throw pillows, because they are so charming. Heather Morris of Glee looks pretty in gold, looking exactly as she always does. Naya Rivera is in a flesh tone – wait, Jason Segel just sang a Meat Loaf song, AS Meat Loaf. This is the best thing that's ever happened. Now they are serenading Carrie Underwood… with Kelly Clarkson's American Idol victory song. Love.
7:00 p.m. We got a shot of January Jones, and it's BRIGHT ORANGE, if the lighting was not a trick. It's also very strappy, and her hair is very… freshly bleached. We need to see more. It won't be hard to find her on the carpet, E, so come on, pony up here. Carrie Underwood, meanwhile, is also in a glittery dress – if it doesn't sparkle, it has a ruffle, is the night's theme – and it's a strapless and simple Badgley Mischka. The world has not tumbled off its axis.
7:02 p.m. Jake Gyllenhaal makes a cute comment about how he can't follow Jason Segel and Jimmy Fallon's serenade. We really want Ryan to ask why Jake thought any of us believed he was really into Taylor Swift, but instead he asks about nudity in Love & Other Drugs. Not nearly as interesting, and yes, we do realize what we just said.
7:03 p.m. Emma Stone is in a very tight coral cap-sleeved scoop-necked Calvin Klein. SURELY there are some pit stains under there. She does not look like herself as a blonde (even though it's her natural color) – we thought she was Kate Bosworth for a second. AND OH MY GOD. SCARLETT JOHANSSON'S HAIR WAS SHOT OUT OF A CANNON. Seriously. Well, not SERIOUSLY-seriously, but it's like it landed midflight on her skill. WHOA.
7:05 p.m.Helena Bonham Carter is apparently wearing Vivienne Westwood. Of course! Kelly loves her. Kelly's cohort in the skybox says, "I love her like I love LaToya Jackson." He might have won us over with that one.
7:09 p.m. There is some kind of Limo Cam with some celebs, and we just got one that's aimed up Vanessa Williams' nose. Nicole Kidman and Keith Urban are with Ryan. She's in a pale dress, one-shoudler, snug, long hair down… She looks nice but we wish she'd wear a color. She used to blow us away on the red carpet and now it's just like, "Eh. NEXT."
7:11 p.m. Justin Bieber. He has a movie? Fans cry? I don't know. He says his movie "is definitely really inspiring, and I feel… a lot of people will be inspired by it." Well! SOLD. Meanwhile, Michael Douglas is in the house, and it is so nice to see. That guy had us all worried. He has his wife Catherine Zeta-Jones with him, and she's in forest green, and we might love it. Mila Kunis is ALSO in dark green – we're so glad that's a color trend this season.
7:13 p.m. How is it possible that Jane Krakowski is THIS pregnant, and we only just found out about it? She's in a nice periwinkle gown and is hanging with Jane Lynch, who is in a ballgown that's sort of a gunmetal-purple shade. Jane K. jokes that they're not writing her pregnancy into the show because "nobody thinks Jenna would make a very good mother." Heh. And, true. Jane K. says she's due at the end of April.
7:15p.m. We just clapped when we saw Julianne Moore's bright red (or pink?) sleeve on her bright red (or pink?) gown. Just when you think nobody besides HBC will bring the madness. Leighton Meester is in a very prim pale dress with a very high leg slit. Sofia Vergara brought the cleavage out to play in her orange gown, with a funky black belt that seems to have grommets.
7:17 p.m. CZJ looks awesome and so does Michael D. He is funny, asking for a Jets score (it's 21-11 Jets with about five minutes left in the game, by the way). CZJ's dress is more ornate than we realized, but not in a bad way. She just pulls off stuff that a lot of people can't.
7:19 p.m. Sofia Vergara pops by, looking beautiful. She says she's sweating a little. She shows us the back, and the grommets are actually on the back of the dress, not the belt. And we have no idea what color it is. Seriously, from some shots, orange; from others, fiery red. It's a Vera Wang. She pimps her Reebok tone-up shoes, as if that is the key to having her awesome, awesome bod. If it's that easy, order me up ten pairs.
7:25 p.m. Brangelina are here, and she is ALSO wearing a color – a green Versace. She looks really pretty freaking great, if we're being honest. They, of course, will not talk to Ryan, but Mila Kunis will. She talks about how tough it was to lose 20 pounds for Black Swan. Where did she find the 20 pounds to lose?
7:27 p.m. Ryan talks to Hugh Laurie, while the Limo Cam cuts to Michelle Williams, who appears to be wearing khaki? We hope that's not true. We can't worry about her, though, because Ryan kicks off Hugh to talk to RDJ, who is sporting Little Lord Fauntleroy hair – that's for Sherlock, right? RIGHT? While they chat, the crowds are screaming for Robert Pattinson, who is wearing a navy blue tux. He's so much more handsome when his hair looks normal – as it does right now.
7:30 p.m. Ryan gets Corey Monteith, who looks very cute in his tux. Also cute: Julianna Marguiles's hot, hot husband. Not cute? Christina Aguilera's too-tight, too-lacy, too-Burlesque dress. She looks so over the top. It's a bit ridiculous.
7:33 p.m. Claire Danes is in the house, in hot pink, backless Calvin Klein. She looks very sleek and chic, although the dress makes her look very thin. Mila Jovovich is wearing a grey/silver dress with a fishtail, which is way more normal than we'd expected from Mila.
7:34 p.m. Tina Fey is wearing a blue velvet dress that is very, very flattering on her indeed. It's got a deep v-neck and ruffles and is a bit-vintage-y looking (it's L'Wren Scott). We like it.
7:36 p.m. Giuliana just got so excited about Brangelina that she just referred to them as them, "Brad and Angelino."
7:37 p.m. PS: you guys, we have to talk about what Halle Berry is wearing. Or, rather, is not wearing. By which we mean, a dress. Her black frock is basically…well, underwear. And not in the hot way. In a bad, awkward way. People are whistling at her on the red carpet and we fear it might be sarcastic. From the neck up, she looks amazing. From the neck down, she looks like the rest of her dress got mauled off by a bear.
7:40 p.m. J. Lo appears to be wearing a cape made of a bridal veil. Just thought you should know. The end of the red carpet is really, sincerely, bringing the crazy.
7:41 p.m. Ryan grabs Anne Hathaway, who is wearing a long-sleeved and very demure sequined dress that's a sort of beige-y bronze. Breionze? This, ladies and gentleman, is your 2011 Oscars host: she's wearing puffed sleeves. "[Your dress] looks like little CDs," is Ryan's only comment.
7:42 p.m. Megan Fox and Brian Austin "David Silver" Green. Megan Fox looks very girly in a pink dress with a very high slit, but Ryan shoves her aside for his co-star J. Lo. She is wearing a glittery, see-through poncho, you guys. A PONCHO. It is crazy unflattering and also just plain old crazy.
7:44 p.m.It's official: Christina Aguliera's boobs are about to make a run for it.
7:45 p.m. So are Rita Wilson's.
7:51 p.m. The camera just caught Heidi Klum making sure that her leg is sticking out of her dress's thigh-high slit. She's wearing some kind of very 70's halter number. On the other end of the spectrum, Christina Hendricks (in red) is wearing something with a giant, giant flower right up next to her face. With her boobs, and very voluminous hair, it is all officially Too Much.
7:53 p.m. Johnny Depp looks very much like Johnny Depp, but we've never been happier to note that he's left the scarves at home. January Jones also looks like someone we recognize, but we can't figure out who. Maybe we're distracted because the bodice of her bright red Versace is basically two ribbons wrapped around her boobs. Ryan is outwardly confused and distracted by this. It is a very obvious choice, and Jones smarms to Ryan that she didn't wear it to be ignored. We get it, honey. We get it.
7:54 p.m. On the red carpet, Tilda Swinton just embraced Helen Mirren, which is something we'd all like to do, isn't it? Tilda's wearing a white oxford shirt tucked into a satin skirt, and her usual no-makeup. It may not actually be separates, but it certainly is very Swinton.
7:59 p.m. Is there any better way to end a live-blog than Swinton hugging Mirren? If there is, we don't want to hear about it.
Also, make sure you check out NY Mag's slideshow of all the red carpet looks here.
Also, make sure you check out NY Mag's slideshow of all the red carpet looks here.
And for more from The Fug Girls, please visit Go Fug Yourself.