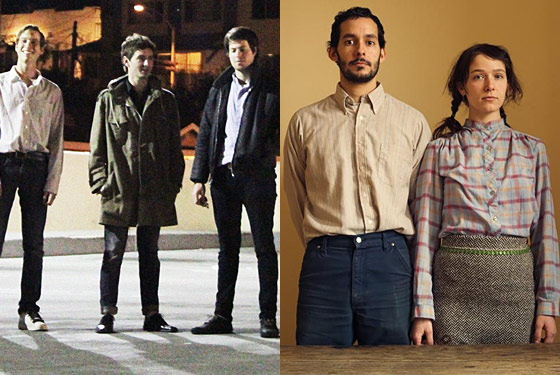 I spent the end of 2010 going over and over two fall releases that are sticking nicely through the winter. Wanna hear about them?
Weekend are an indie-rock trio from San Francisco, which makes them a little hard to describe without drifting into the kind of schematic diagramming indie-rock reviews always have to plow through: Here's the scene you can compare them to (a crop of West Coast guitar bands playing fuzzy, distant-sounding basement indie), here's the old music they probably enjoy (noise-pop, the Jesus & Mary Chain, shoegazers, early droning Stereolab, Joy Division, Sonic Youth), here's the twist they offer (more noise, more power, and more of some ineffable thing that sounds like "spirit," which we'll get to in a second). I have to admit, though, that this kind of rundown is increasingly dispiriting to me. It's the basic language of reviews, and it's useful — it lays out how a piece of music fits into a given context. But it always feels like an admission of something I wish were less true than it is: That a lot of great-sounding music makes sense mostly within a particular niche, as if it's all just a matter of connecting the impulses and reference points your corner of the world already deals in. It makes bands sound like recipes, or bingo callers — just shouting out the right numbers to make a line on a given audience's card.
I'd like to tell you Weekend are a lot better than all that, but I should probably offer a warning first: The numbers this band is calling out are ones that have been etched on my personal bingo card for a long, long time. Still, there's something about them that feels a little more vital than usual. The opening track from their new album, Sports, starts off sounding familiar enough, in indie-world: steady trudge of drums, insistent jangle of guitar, voice cooing from several rooms over. But where a lot of indie bands have spent the past few years using tasteful blurs of noise to conjure up a dreamy quality, this act goes in harder, and makes the noise sound grand, achy, and triumphant. It needles. Before long, that opener, "Coma Summer," has trebly washes of guitar screeching in and out, and a low oscillating moan disrupting the mix, and it's stomping along with the kind of confidence and determination you don't often get from a recipe of influences. The next track, "Youth Haunts," works its way up to a cymbal-bashing burst of noise I can't stop loving; by the middle of "Monangah, WV," they're combining steady bass-pummeling with the kind of big, reaching hook that would sound good in almost any kind of song. No idea what lyrics are being shouted up from the depths of this sound, but it doesn't much matter: Weekend are making screeches, hisses, and echoes feel like they're saying plenty, emotionally speaking. Fans of head-clearing noise (and scrappy old indie) should probably take a listen.
Across the country, there's this Brooklyn duo Buke&Gass, another act I'm loathe to introduce the way I probably should. Their name comes from the homemade instruments they play: The "buke" is a baritone ukulele modified to work like an electric guitar, and the "gass" is a bass-guitar hybrid, and for percussion they have a kick drum and a foot-tambourine, and one of them used to work making instruments for the Blue Man Group, and … this all sounds like something that's going to be quirky and precious and irritating, doesn't it? Ukulele, foot percussion, Blue Man?
But no, not at all: The music Buke&Gass plays is big, rigorous, and complex, full of heaviness, tricky shifts, and very good musicianship. Riposte came out around the same time as an album it feels a lot like — fellow New Yorker Marnie Stern's self-titled record. Both have a hyperactive, celebratory quality — notes and rhythms spewing every which direction like prog-rock confetti, vocals chirping and weaving around them. A lot of the beauty of Buke&Gass, though, is how controlled they sound about it: Singer Arone Dyler has a precise, expressive voice, and she can swerve through melodies like the ones on "Naked Cities" with a wonderfully sly grace. Everything's crisp and right in its place; with only two members making a sound this big and ambitious, there's really no room for anyone to go wandering off the path.
Underground rock acts have spent a long time being suspicious of this kind of complicated musicianship, like it might all just be a form of showing off. But these two aren't just good at making skills and complexity serve the music they're playing — at points they manage to make it sound like a fresh end in itself, impressing you with the intricacy of what two people can get out of these sounds. Riposte is 43 minutes long and can feel a little exhausting by the end: The band's palette is limited (especially given the homemade instruments), and they're constantly throwing a lot at you. But what they're offering along the way is fresh and head-turning, and weird in the way I always like bands to be weird — not just because they sound different, but because they work differently.