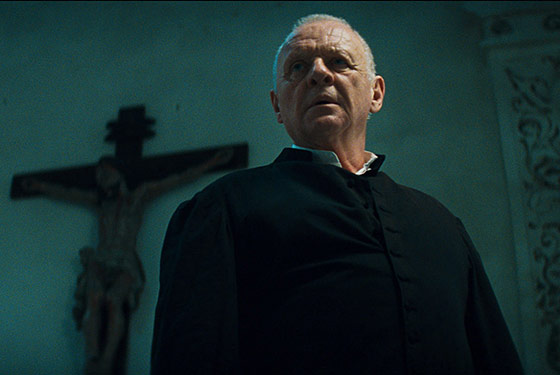 The Weekend's Winners: CBS Films finally draws a bead on modest success with a remake of The Mechanic ($11.5 million, or $2 million more than expected by box-office analysts). Also: Black Swan grossed $5.1 million, falling just 13 percent despite losing nearly a hundred screens. Thank you, Uncle Oscar!
The Weekend's Losers: Box office in general and The Rite, a critically savaged "thriller" — if you can legally use the term to describe this nonprescription sleep aid — in particular: The Anthony Hopkins–anchored exorcism flick opened to $15 million, or $4 million less than expected. Also: Peter Weir's The Way Back continued its downward spiral, losing more than half its audience, grossing less than $600K on just less than 600 screens.
How It All Went Down: It's tough to say whether we should praise Hopkins for carrying off an opening like this at his age, or castigate him for starring in pablum that drags down box office at a time when most studio chiefs can barely afford their sixth vacation homes: A month gone from 2011, and box-office revenues and attendance are only three-quarters of what they were last year. Mikael Håfström's The Rite didn't help matters; it skewed decidedly older, likely thanks to its star, who is pushing 74.
Meanwhile, after rereading Roger Ebert's 1972 review of the original The Mechanic, one can see how it might be tempting to remake the film as a psychological thriller: As Ebert observed, "The real action in this movie is psychological — two cobras circling each other — and when [Bronson] throws in a motorcycle chase we're reminded that it isn't much better than last week's motorcycle chase. Yawn." And so while it's disappointing that director Simon West chose to remake the Charles Bronson flick as "a violence film, not an action film" (as Michael Phillips of the Chicago Tribune so aptly put it), young males put down their XBox 360 controllers and seemed not to mind so much: Mechanic outperformed expectations.
Finally, the Oscar bump was very much in evidence: Besides Swan, the Coens' True Grit saw a 4 percent increase despite the loss of nearly 350 screens, while Danny Boyle's 127 Hours added nearly 850 theaters to successfully grab a hair over $2 million last weekend — though it bears pointing out that Hours still remains the second-lowest-grossing Best Picture nominee in history.
Your Top Ten (via Box Office Mojo):
1. The Rite: $15 million
2. No Strings Attached: $13.7 million ($39.7 million)
3. The Mechanic: $11.5 million
4. The Green Hornet: $11.5 million ($78.8 million)
5. The King's Speech: $11.1 million ($72,217,000)
6. True Grit $7.6 million ($148.4 million)
7. The Dilemma: $5.5 million ($40.6 million)
8. Black Swan: $5.1 million ($90.7 million)
9. The Fighter: $4 million ($78.3 million)
10. Yogi Bear: $3.1 million ($92.5 million)