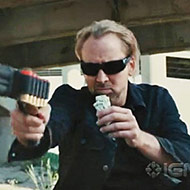 This Weekend's Winners: Gnomeo and Juliet, with $14.2 million in its third weekend, is fast on its way to becoming the top-grossing film of winter. (Cumulative gross: $75+ million and growing.)

This Weekend's Losers: Drive Angry in 3D ($5.1 million) — which is even worse than Jonah Hex, if you can believe it. Also: The anemic Hall Pass scored only $13.4 million.
How It All Went Down: It's been shown that "high-anger" drivers have twice as many car accidents as calmer ones, and this past weekend, Drive Angry proved that rule by crashing and burning: Despite its being the only true "movie star" movie on the marquee this weekend, most women and teens were reluctant to get behind the wheel of a Cage vehicle that was clearly unsafe at any speed. Studio exit polling showed that almost 70 percent of its audience was male, with most (57 percent) over the age of 30. For this sexually lopsided result, credit must go to the buxom Amber Heard, who eclipsed Cage's presence in most marketing materials — never a good sign for a leading man, his movie, or his career.

(While it's clearly been rejected as entertainment, there is, however, always the hope that Drive Angry might function as a mandatory "Driver's Ed" for newly licensed talent agents in the hopes of preventing them from seeking easy paychecks for cash-strapped clients.)

Despite the fact that we thought few men would be willing to turn to their betrothed to say, "Let's see a comedy about men who can't stand sleeping with their hot wives anymore!" what seemed to hurt Hall Pass was its lack of appeal to young folk: Only 22 percent of its audience was between 18 and 24.

With competitors like these, it was considerably easier for Gnomeo and Juliet to take the top spot. It lost only a little more than a quarter of its audience from the previous weekend — a feat made all the more impressive by the fact that its percentage of its gross from premium-priced 3D tickets was only 56 percent.

Meanwhile, as was first reported exclusively in this blog, the new 3D-only "Director's Fan Cut" of Justin Bieber's Never Say Never seems to have staunched the bleeding that usually attends concert films after a few weeks. It dropped less than a third of its audience — only 31 percent — to deliver roughly $9.2 million more.