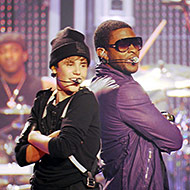 In a clever move that could stave off the usual precipitous drop in grosses that besets so many concert movies, Paramount's Insurge label is cutting an updated version of Justin Bieber: Never Say Never with new footage for a possible release on the film's third weekend in theaters. The new version — Bieberfilm 2.0, if you will — would include different live performances than the original movie, new scenes of Bieber shot at the premiere of Never Say Never, and various early showings of the movie that Bieber secretly attended last Wednesday. There may even be scenes shot as recently as Grammy night.
Insiders familiar with the situation say that the studio is waiting for Jon Chu's director's cut to decide whether they will release the new version in theaters or as a special DVD. But revamping a film already in theaters in the age of digital projection is no longer the prohibitively expensive proposition it used to be and has the potential to significantly boost its grosses. Some 84 percent of the film's current release is via digital 3-D projection, so the cost of sending the new, recut footage doesn't involve anywhere near the complexity and cost of printing and shipping thousands of additional cans of film to theaters. As for promotion, Bieber is unique among stars in that he can speak (and market) directly to his fans: He has over 7.2 million followers on Twitter and is "liked" by over 21 million people on Facebook. Even if only a small fraction of them turn out to see the remixed concert film, it should drive Never Say Never's grosses considerably higher than what they'd normally be in its third weekend. (For example, the 2008 Miley Cyrus/Hannah Montana Best of Both Worlds concert film opened to $31.1 million, but then lost a little more than two-thirds of its audience in its second weekend and another two-thirds in its third.)
Chu has no end of footage with which to remix his documentary: There are literally days' worth of material from which to select, and over a dozen songs from the other concert performances that led up to Bieber's Madison Square Garden blowout. It's not clear just how much of the movie will be revamped: One source tells Vulture that the studio has even been exploring whether fans could vote online to choose the new concert songs that will be included in Version 2.0. (i.e., You didn't care for Justin's rendition of "Eenie Meenie" with Sean Kingston in the original? Vote to replace it with, say, his Miley Cyrus duet "Overboard" filmed live in Madison Square Garden!), but nothing has been decided yet.