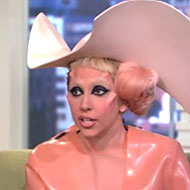 Shots fired! In Billboard's new cover story, Lady Gaga takes aim at superstar producers (not by name) like Dr. Luke and Max Martin, saying their manner of dictating the sound of the artists they work with hurts the industry.
Something has happened where the producers have begun to think or believe — or the industry has begun to think or believe — that the producer makes the hits. This is the most dangerous thing that has happened to this business. Because it takes the credibility away from the singer and from the artist…that's the key to the success of the music industry–allowing the artist to creatively run the ship.
But "[t]here are certain artists who aren't able to run the ship," Billboard retorts. And Gaga re-retorts:
Or maybe they are, but producers are getting in their way. I'll probably get in trouble for saying that, but I don't care, because I'm looking out for the future of this industry. And I believe so much that this industry is being revitalized every day in more and more areas … we can sell millions and millions of records in the first week, like we used to. But we have to remember that music began with the artist.
Okay, so, let's come back to the "we can sell millions and millions of records in the first week, like we used to" bit to get to the non-ridiculous part of this first: Gaga, reminding us that pop stars can have autonomy. See, after a while, you completely take for granted that certain acts exist as little more than the public face of a meticulously engineered marketing campaign. Who knows how much of Katy Perry or Rihanna's personas are genuine? Who cares?
Gaga is the exception, of course — setting her own course, birthing her own way. So should she actually be the rule? Well, it's not like her music is more innovative, or better, than those other acts; her visuals, though, are, but that has nothing to do with her musical collaborators. If she's suggesting that new acts should find their own voice rather than latching on to whatever is handed out — yeah, sure. But that's not how it works. These aren't brilliant songwriters being forced to compromise their singular vision; these are singers being handed songs. These are cogs in wondrously effective machines. We back Billboard here: Not everyone can, or should, run their own ship.
And it's obviously piracy, not some dearth in quality, that's leading to nonexistent sales. Pop music, right now, is actually pretty great. Okay, yeah, we've talked our way through this. Gaga, leave Dr. Luke alone!
Lady Gaga 'Born This Way' Cover Story [Billboard]