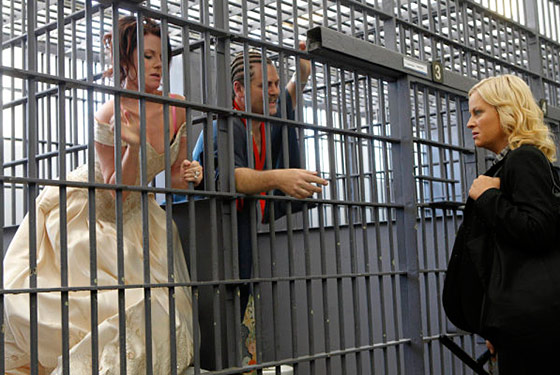 Last night brought the cult-sitcom reunion you've all been waiting for: Henry Pollard and Lydia Dunfree, sans bowties and pigs in a blanket, transferring the frayed chemistry from their days at Los Angeles' Party Down Catering to humble Pawnee.
Okay, fine. Adam Scott and Megan Mullally don't even have any scenes together. But this did mark an anticipated reunion in that last year's "Ron and Tammy" episode — in which we learned the lurid details of Ron Swanson's tortured, sexually depraved relationship with his evil-librarian ex-wife — is on anyone's short list of moments when Parks and Rec found its voice and its footing last season. Ron Fuckin' Swanson, the libertarian ideal of what happens when free will meets self-control, was rendered defenseless and partially mustache-less. (The fact that Nick Offerman and Mullally are married In Real Life gooses the joke.) It was only a matter of time before she'd be back.
And now she is. There's a lot to love in this episode, but maybe nothing more simple or sublime than the look on Ron's face in the very first scene, when the comptroller informs him of the late charge levied for the popular self-help tome It's Not the Size of the Boat: Embracing Life With a Micropenis — he's amused and impressed and vaguely terrified and definitely turned on, all told with a cock of an eyebrow and the a smile. (Has any comic actor worked the brow this well since Belushi?) Leslie accompanies Ron to Tammy's office at the — shudder — library, for moral support, but it's not needed. Ron calmly tells Tammy that he's in a happy, stable, non-insane relationship with Wendy. Which is all fine and well until Wendy announces that she's moving back to Canada, and no, Ron isn't interested in moving to Canada. Spit take. (Hello, 30 Rock joke synergy.)
Tom, though, is still bitter about their relationship, and now that he no longer has Lucy to distract him, takes revenge by bringing Tammy to a pizza party for the Pawnee police force, intended to butter them up so they'll volunteer their services for the Harvest Fest. "I know Tammy seems scary," says Leslie, "but she's just a manipulative, psychotic, book-peddling, sex-crazed she-demon." What follows is nothing short of disaster.
You know, one minute you're trying to reach closure with your emotionally manipulative ex-wife at a pizza party, the next you're in jail with your hair in cornrows, wearing a filthy kimono, a half a mustache, and a wedding band on your penis. The montage detailing the events leading up to this is one of the most confidently giddy and economic sequences you'll see on this or any other television show — the fight, the hair salon, the wedding-registry spree, breaking in and stealing a license, the ceremony that takes the "you may now kiss the bride" part to a dangerous extreme. (Thanks, NBC promo department, for spoiling the genius "It rubbed off, from friction" punch line. And pity that last night's episode of The Office centered around public displays of affection in the workplace, because this pretty much made Michael and Holly's childlike canoodling look like a non-topic.) The dazed grin on Ron's face during both the wildly ineffective intervention and the shower at the library is Emmy-worthy on its own.
And just as the previous pairing of the Mullally-Offermans was as memorable for showing the compassion between Ron and Leslie as it was for Ron and Tammy's fearless/fearsome chemistry, this episode had heart that was every bit the equal of the montage or the intervention. The thing that snaps Ron out of his stupor isn't the inanity of a bridal shower, but Tammy kicking the shit out of l'il Tom, who has to get thrown full-speed into a library bookcase before Ron snaps out of it, carrying Tom out of the library Bodyguard-style.
We'd be remiss not to mention that other stuff happened in this episode, too. April was temporarily reassigned to Chris's desk and tried to sabotage a lunch date between him and Ann, and wound up parlaying that into an offer to accompany Chris back to Indianapolis — an offer Ann's surprised she hasn't received herself. Tip of the hat to Aubrey Plaza, who lets April thaw the slightest bit upon hearing Chris's compliments and considers the offer, despite the urgent letter from Agent Macklin of the FBI demanding she return to the parks department to handle an emergency.
Finally, a theory of no particular import or substance: If Pawnee is becoming the new Springfield, with its ever-expanding cast of oddball residents and recurring characters, is Tammy Swanson-Swanson its Sideshow Bob Terwilliger? Stunt casting: Check. Evil nemesis of the show's protagonist: Check. Presence guaranteed to elevate an already great show into Holy shit, did you see that? territory? Check. If anything, the writers have painted themselves into a corner as far as being able to top the shenanigans here, but that's a challenge, not a death sentence. If Parks and Rec can find a way to bring Tammy back even just once a season, that's reason enough to renew this for another twenty.