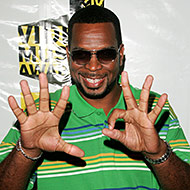 Admittedly, Vulture's insight into the Southern Florida political scene, the civic issues currently affecting Miami, and the qualifications necessary for effective city governance is imperfect. But it doesn't take a friggin' expert to know that former 2 Live Crew svengali Luther Campbell — a.k.a. Luke, a.k.a. Uncle Luke, a.k.a., at least a long time ago in a galaxy far far away, before George Lucas sued him, Luke Skyywalker — would make an excellent mayor. How can we tell? Campbell announced his plans to run against current mayor Carlos Alvarez, who is facing a March 15 recall vote, in an interview with the Miami New Times yesterday, and he has all kinds of persuasive arguments as to the legitimacy of his candidacy.
Seeing as this is a man somewhat associated with the lyrics "my appetite is sex cause me so horny," Luke of course has an obligatory stripper tax idea: "Even though all my stripper friends are gonna be mad at me," Luke would like to tax their income and then "take that cash and put it into a fund where it supports youth athletics for girls like cheerleading or softball." He's also got more traditional ideas about affordable housing, crime reduction, and effective cost-cutting moves gleaned from his days running a record label. Our favorite part, though, is how he explains he'll manage to get the support of Miami's large Cuban population because of Pitbull.
When I discovered Pitbull, everyone told me there was no way a Cuban rapper could make it. My response was, if I can discover Trick Daddy and put all my effort into promoting and marketing the Miami he represented, why can't I do the same for Pitbull? Cubans and other Latinos in Miami-Dade get up and dance to my music just like African-Americans.
In conclusion: vote for Luke!

Luke for mayor [Miami New Times via RapRadar]