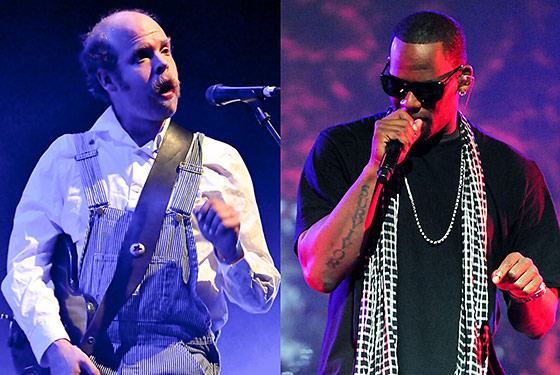 As his loving covers of "Ignition" (not the remix) and "The World's Greatest" attest, Will Oldham — a.k.a. prolific folk stalwart Bonnie "Prince" Billy — is an avowed, sincere R. Kelly fan. Hats off, then, for Interview magazine managing to make two worlds sensibly collide recently by having Oldham interview his hero.
In the piece, Oldham gets Kelly to explain his retro-soul album Love Letter, a thinly veiled Sam Cooke tribute that was widely seen as a sort of correction to Kelly's progressively seedier public persona. Of course, Kelly doesn't explain it that way. According to R., the inspiration was an actual Sam Cooke party he threw at his home: "People loved it. I mean, they got with every song. I was shocked. We had a ball. But I think I was bitten that night, like Peter Parker being bit by the spider … I was so overwhelmed and overpowered and pretty much musically abducted by this other period."
Now, Kelly tells Oldham, "I'm thinking of going back to the Shaft [1971] days next year and just see what it's like to bring that back to R&B. It's interesting because when I was a kid I used to watch, like, Back to the Future [1985], where the man would call 'Marty!' and they would jump in the little car and go back to the future. And I always said, 'Man, that's how I want to be able to travel with my gift.'"
And those aren't even the best passages from the interview! That would be the following:
KELLY: I felt like people have fun with concepts like that—even when you throw a party. You say, "Okay, everybody gotta come in with a broom and a witch hat and it's a witch party." You know what I mean? "Everybody gotta come already drunk."
OLDHAM: Have you ever said that for one of your parties—like, "Everybody has to come drunk"?
KELLY: "Prove you're wasted. Walk a straight line … Oops! That girl fell. She gets to sit in the VIP section." [both laugh] Nah, man, I've never done that.
Read the whole thing, though; it's great. Oldham's knowledge and appreciation for Kelly's back catalogue pops throughout, and there's an honest chemistry between the unlikely pair that really shines. Which is to say: If someone were to option this interview as an ill-advised Fox sitcom — maybe one where Kells and Oldham play co-managers of a struggling laundromat with a wacky work staff? — we would not protest.
R Kelly [Interview]