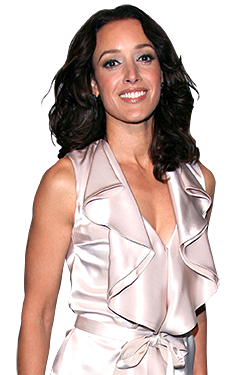 The L Word star and Chicago native Jennifer Beals makes her return to the small screen, and the Second City, for the new Fox series The Chicago Code, which premieres tonight at 9. She plays the first female superintendent of the Chicago Police Department who is intent on taking down the corrupt and powerful alderman (Delroy Lindo) who got her in her new position. She talked to Vulture about the surreality of being home for the first time since she was 18, and how the switch to a more testosterone-fueled show means a lot less talking — which can be a good thing.
What's it like to be home?
Sometimes I feel like I'm in that movie Inception, where I'm in different layers of reality and I feel like I keep cycling back to things have happened to me in the past but with a new awareness. I'm seeing neighborhoods that I've never visited before. In some ways it's like when I lived in New York and I never went above 14th Street for the longest time. In Chicago, you're in your neighborhood and most of the time you don't have to leave it.
Would you say your L Word character, Bette Porter, a West Hollywood power lesbian, was a good primer for you to play Teresa Colvin?
They're both devoted to justice, for one. Bette helped to give me a foundation for my character, in that she was very driven and righteous and dedicated to a cause. For Bette it's a more abstract thing: It's art. But for Teresa, it's very immediate. It's people's lives. It's humanity. It's the soul of the city.
Teresa doesn't appear to have a romantic life. Does she share anything else in common with Bette?
I get a little something going on at the very end. Oh, and it's with a guy.
L Word fans will be heartbroken, you know.
[Laughs.] I think Teresa would be lucky if she has a friend.
What's it like to transition from being on an all-female set — clad in the finest threads — to being surrounded by testosterone in gritty Chicago?
Gone from the wardrobe of L.A. and on to polyester. Teresa has some decent suits, though. There were times on The L Word I longed to be around testosterone, or needed to have more of a balance. I loved being with all the women and I loved the way people processed things so much — and there was a lot of talking going on. About everything. At first I got really frustrated because I was like, "Let's just do it, let's stop talking about it." But I started understanding the value of it. But when you're the superintendent of the Chicago Police Department, it's a very testosterone arena, and you have to be able to not only hold your own, but dictate to other people, and that's been fun. And I grew up with brothers. What can be taxing is you're holding so much in. At the end of the day, it can be a bit exhausting. Even pretending that for sixteen hours can be exhausting.
The show was originally called Ride-Along. I assume you went on a few. What was that like?
It was fun. Not fun — I can't say it was fun. I was with a detective and we were the first to arrive when this man had been shot and was about to bleed to unconsciousness on somebody's stoop. I watched the mechanics of a crime scene: what tape goes where, who's responsible for talking to the victim, who's responsible for keeping people out of the area, watching how people react to the police and to each other's grief. We followed the trail of blood for almost two blocks, trying to figure out where he had been shot and where the shooter would have been. I helped by looking for shell casings because when I was growing up, my father and people in our neighborhood would shoot off their guns on New Year's Eve, and New Year's Day the kids would go out in the snow looking for shell casings. We didn't have Easter egg hunts, we had shell-casing hunts.
Why did your dad have a gun?
He owned a grocery store on the South Side. He had to protect the store and, believe me, sometimes the gun came in handy. Not that I'm an advocate by any stretch of the imagination, but this is just the reality of the neighborhood.
Do you think you could be a detective?
I wouldn't last 30 seconds. I'd get so frustrated, because as you're standing at the crime scene, there are 50 people gathered around who have various relationships to the victim, and you know at least a third of them know who the shooter was and aren't going to tell. But as I spent more time in the role, I started to miss going out on ride-alongs. I missed being in the car. I missed the adrenaline.