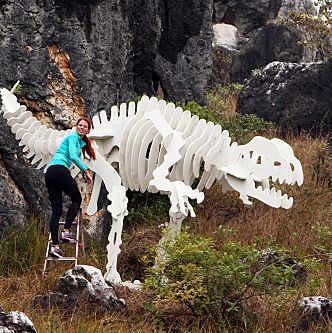 Photo: ROBERT VOETS/?2011 CBS BROADCASTING, INC. ALL RIGHT RESERVED.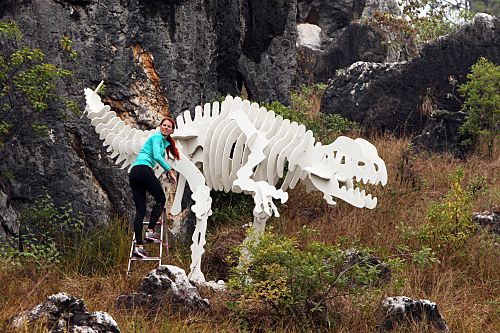 An alternative title for last night's episode could have been "Taking Lots of Cabs," because that seemed to take up about 75 percent of the night's "action." We've got to assume that the producers knew this episode would air at the same time as March Madness and wanted to make it easy to flip back and forth between the race and sweaty tall dudes. (Syracuse, you heartbreakers.) At least we got some silly costumes out of it!
The episode started off a bit lame — after all Kent and Vyxsin's "to be continued" lost fanny pack drama, there was a long enough wait for the train back to Kunming that they easily caught up with everyone else. Perhaps our commenters were right last week, and the show was given some sort of filming restriction in this part of China. Once reunited with the rest, they continued their car trouble lie, and also neglected to tell anyone about their 30-minute time penalty. Either way, Kent and Vyxsin's appearance ruined the basketball game the Globetrotters, cowboys (in giant Globetrotter jerseys), and Kisha and Jen had going on. Next episode the cowboys should definitely wear those the whole time, while the Globetrotters wear cowboy hats.
After an overnight train back to Kunming (where Zev and Justin happily rode in the top of the triple bunk beds, as they had less of a chance of getting murdered), the teams bounced from location to location very quickly, with no time to learn why they were at a place worth visiting, let alone do a challenge. Of course, even some teams had trouble with this — Gary and Mallory and the cowboys thought that going to the "golden arches" meant to find a McDonald's.
The teams split between the detours pretty evenly: "honor the past" by watching a traditional Tibetan performance and then ordering costumed dolls in the order of the performers (while wearing an awesome outfit themselves), or "embrace the future" by carrying a solar water-heating system to the top of a building and installing it. The "future" challenge ended up being a lot less physically demanding than it sounded — all the ladies carried everything up the stairs just fine, though Kent struggled to even carry a box with Vyxsin. Is anyone else starting to get really annoyed with them? They bitched at each other and inanimate objects more than Ron and Christina this week.
Everyone then found a place in a photo fairly easily, where the double U-turn waited. Kent and Vyxsin managed to get to it just a second before Jaime and Cara, and U-turned the girls rather than the suggested Globetrotters. Cold! But we have to wonder: Even though they were suggesting Flight Time and Big Easy, would Jaime and Cara (who then did U-turn the Globetrotters) have done the same to Kent and Vyxsin had they got there first?
The pack then headed to Stone Forest — another simply told clue — to build some twenty-foot dinosaur models in the Road Block. Unlike the Detour tasks, which were even finished quickly in the U-turns, the teams struggled with the dinosaurs, which had to be both correct and locked in place properly. The diagram guiding the teams must not have been clear, because nearly every person messed up their model's hips and had to disassemble everything and fall off their ladders — everyone except Gary and Mallory, who saw how time-consuming it was and decided to use their Express Pass that we forgot about. Despite the pass, the cowboys managed to finish the task quickly enough that they got to the pit stop first, where they won $5000 and some triumphant cowboy music. Does every team have its own winning theme, or do we just notice the cowboys' because it's so distinct? (Can the Globetrotters' be from Space Jam?) Kent and Vyxsin's time penalty ended up not mattering, as they still checked in in fifth place. It appears that 30 minutes is the new standard penalty, even though missing a required flight, to us at least, seems like a bigger offense than taking a taxi instead of a bus. Their U-turn of Cara and Jaime certainly worked in their favor: Jaime had the most trouble with the dinosaur, and the ladies checked in last. Just goes to show you that this race can literally come down to a second!
Next week the teams head to Calcutta, India. Expect crowds, Luke crying (sad face), a giant tea tasting, and presumably lots of bathroom breaks.